When hubby announced to me last Wednesday that we were going away for the weekend for my birthday celebration, I was *almost* disappointed.  We can't fly, can't sail and can't endure long car rides (especially since my chest pains arrived a couple weeks ago), so that leaves short-car trips.  One would assume San Antonio or Austin.
While I do enjoy both of these cities, (scrambling to sound less of an ungrateful mare) we favour trying somewhere new when we travel.  I should have had more faith in my wonderfully curious, explorer-husband, because he did in fact stick to our preference of trying out somewhere new, and his description of our weekend was, and I quote, 'a gamble'.
Hmmm.  He told me the night before we left, where we were going, Beaumont, Texas – a city around an hour and forty minutes from us in Missouri City, so closer still than San Antonio or Austin (bonus points for a shorter-than-expected car journey!) and that we were going to take in a show, the Blue Man Group.  I can't/won't tell you too much about the show, mostly because I'm not sure that it's something words do justice to, so, instead, I'll tell you it's musical, it's visually stimulating, it's hilarious and to go and see it, if you have the opportunity – you won't regret it.  My mind was BLOWN.
Why bother with Beaumont?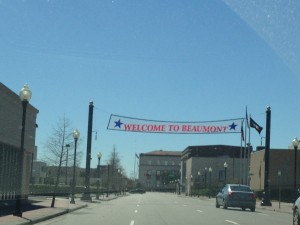 I wasn't sure what to expect from Beaumont to be honest, I'd only ever considered it as a venue for concerts by people who didn't make it to Houston – but had never considered it as being in our 'somewhere to go' catalogue.
Beaumont is probably most famous as being an old oil 'boomtown', in 1900, the Lucas gusher blew, putting Beaumont on the map for being the home of the greatest oil well in history.  It's success lasted around a decade, at the end of which, the oil well was drained dry, Gladys city was a ghost town of wooden shacks and all that was left, was the memory of the Lucas gusher.
First things first, this IS a manageable day-trip from the greater Houston area, that said, Beaumont, in whatever wacky wisdom they believe to work for their city, close a lot of the tourist attractions on the weekend – two days of the when, in my opinion, would be the most beneficial time to keep the places open for tourists.  That, or they open at odd hours, or request you book appointments in advance.  But, what do I know? I'm just a tourist, right?
What did we do?
We arrived on Friday afternoon, had lunch, did a spot of shopping (just in Target) and hit up the Blue Man Group in the Julie Rogers Theatre – a beautiful theatre, if you have a chance to see something here, do it.  Parking was free at the back of the theatre, it's a great size, not too big, not too small, acoustics are good and the décor is absolutely beautiful!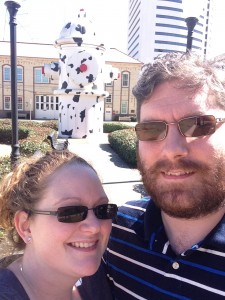 Saturday morning we hit up the Fire Museum of Texas – and quickly discovered, that it was closed (BOOO!) But, thankfully, the worlds largest functioning fire hydrant wasn't inside, so we had a walk around the grounds and took some fun pictures of the HUGE hydrant painted like a cow.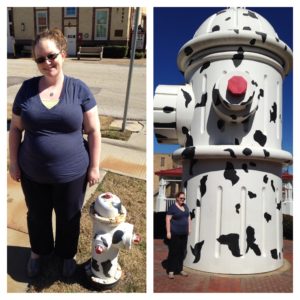 Spindletop/Gladys City Boomtown Museum.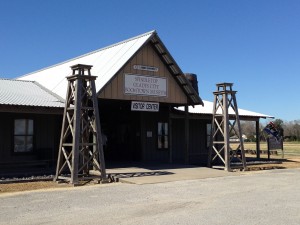 Once we were done taking pictures in the sunshine, we headed out to the   A reconstruction of the old Gladys City from back in the days of the Lucas Gusher.  It was a very interesting museum, you move from building to building around the town, learning what life was like back in 1900, when the gusher blew and tens of thousands of oil-folk flocked to the city.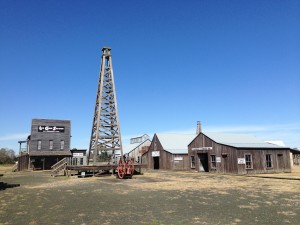 Also you have model Spindle Tops, a gift shop, and, if you are so inclined, a function room that can hold up to 75 people – we spent just over an hour here at this museum and there was a lot of open space for kid-lets to run around and wear themselves out!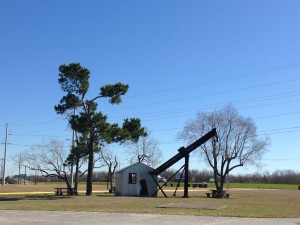 This museum is open Tuesday-Saturday, 10 a.m. to 5 p.m. (last admission at 4:20 p.m.) Sunday, 1-5 p.m. (last admission at 4:20 p.m.) Closed most Mondays, Christmas Eve, Christmas Day, New Year's Day, Easter and Memorial Day.
Information: 409-880-1750 or
gladyscityinfo@gmail.com
 and parking is free.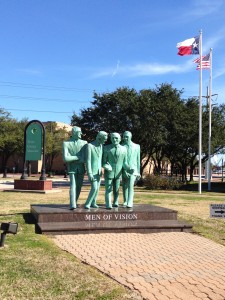 Being married to a guy who works in the oil and gas industry, a visit to the Texas Energy Museum was pretty much, unavoidable.  Full of interactive, educational exhibits on how oil is drilled for, processed and what it is used for, this place was quite fun.  That said, it wasn't as extensive as I expected, and we probably were in and out in about an hour to an hour and a half.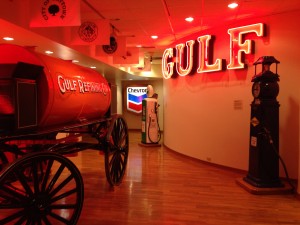 It still focuses a lot on the Lucas Gusher and the boom in Beaumont, but I feel they could have done a lot more to encompass the actual oil process.  It was definitely worth the entry fee and I think it would be particularly interesting for kids of people in the oil services industry, to learn what mum or dad's company does.  Plus they'll all enjoy pushing the buttons – right?! 🙂
Free parking adjacent to the Museum (always a bonus) and open Tuesday through Saturday 9am to 5pm and Sunday 1pm to 5pm.  Adults pay $5, children over 5yrs old and seniors pay $3.
Notable mention: Raos Bakery
We went here, under the false pretenses of lunch.  Trip advisor and Yelp said they did sandwiches, paninis and soup – as it turned out, they were all pre-packaged and didn't look overly appetizing at all.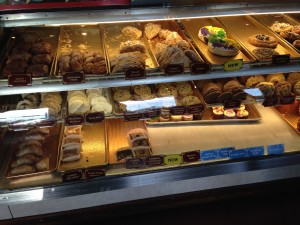 That said, this place is a bakery, so the sweet counter got our attention in an instant.  As it was valentines weekend, they had a lot of both Valentine's themed goodies, as well as some King's Cakes on hand for the upcoming Mardi Gras celebrations.  We opted for the last Napoleon that was on the shelf.  Mostly because it looked like this: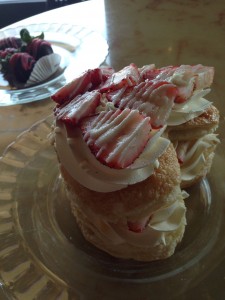 Sweet Lord above we died and went to heaven.  Puff pastry, sweet cream and strawberries – simple, but so totally delicious (and very unladylike to eat!!) – and their chocolate dipped strawberries were fantastic too.
If you fancy a coffee and a treat, go here.  You won't be disappointed!
Where did we stay?
Probably the newest (at the time I'm writing this, Feb 2014) hotel in the Beaumont area and one of the nicest 'budget' hotels I've been to in a loooooong time.  The Holiday Inn Express.  It came very highly rated on Yelp and Trip Advisor and hubby got a good deal on a room (around $85 a night).  For that, you get free internet (which worked pretty well for hotel internet), free breakfast (again, surprisingly good considering most hotel breakfasts – my favorite was the industrial pancake making machine and I left wanting Col to buy me one for Christmas!) free parking, close access to all of the attractions in Beaumont.
The room also had a fridge (which worked better than our own at home), a microwave (which was ace since hubby brought along some popcorn to pop – just in case!) and a decent sized bathroom.  The pool was an outside pool, which, normally wouldn't bother us in February in Texas, but after our freakishly cold winter this year, the pool was left empty for the weekend, which was a shame.
I can't recommend this hotel enough, we got great sleep (with a hot water bottle for a husband, a good AC unit is of paramount importance), it was quiet, we were able to watch the Winter Olympics on the flat screen and the staff were lovely and friendly.
What else can you do in Beaumont?
Here is a couple of places we couldn't make work, due to timing, but would have interested us, had they been open over the weekend.
Places like the Beaumont Police Department Museum is free to visit, but is only open on weekdays and viewable by appointment only (call 409-880-3825).
The Fire Museum of Texas, was somewhere we were DYING to go see (we love going to see local fire museums), but, again, it's not open on weekends (unless by special appointment).  Another free institution to go and visit (Beaumont is a really GREAT city for free museums!!) this museum is open Monday to Friday 8am to 4.30pm and ranks as the #1 attraction to visit in Beaumont.  We are sad to have missed out!
Thomas Edison plaza museum, is another free-to-visit place to drop in on your day/short trip visit to Beaumont, and, as of June 2013, they are open Tuesday through Friday 9am-2pm and Saturdays 10am-2pm and reviewers say to allow yourself an hour to an hour and a half to enjoy this small museum.
Clifton Steamboat museum, this museum (and accompanying tug-boat) doesn't even appear on Trip Advisor's list of things to do in the city of Beaumont – so I didn't know about it's existence until I got home – a little too late, right?  It is open by appointment only, costs $5 per adult, $4 per child and is free for children under 5 years old.