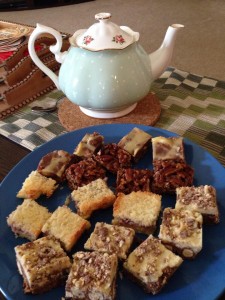 It's been a while since we did this tray bake morning, but I wanted to share it with y'all anyway.  This time, however, we did something a little different, we opened our ranks *gasp* to a few friends who were visiting, who wanted to come along and see what we got up to in our normally closed-door tray bake sessions.
I can't begin to tell you how much I love these get-togethers.  If you've ever contemplated starting or joining a baking group – do it! The way we work is, every month or so, we get together in someone's house (it rotates each time).  We each turn up with a recipe and ingredients and make whatever tray bake dish we have chosen.  We then share the fruits of our labours, and go home with some of each of the four dishes – even though we only made one – genius, eh?
For our recipes this month, I chose to do some Crunchie bars, Joanne made some Malteaser bars, Alison made some coconut jam slices and Eileen made some caramel pecan bars – we also threw together some rice krispie nests for Easter – and as something fun for our littlest baker, Averie, to join in on.
Our husbands also appreciate our get together's too – that's for sure!

Coconut Jam Squares
Ingredients
1.5 cups plain/gluten free flour
160g butter
0.5 cup icing sugar sifted
0.3 cup jam (Alison used raspberry)
2 eggs
0.3 cup caster sugar
2 cups desiccated coconut
Method
Preheat oven 180oc/360of
Line 16x26cm pan with baking paper
Process flour, butter & icing sugar in a food processor until mixture come together. Press into pan. Bake for 15 mins until golden. Cool for 5 mins.
Spread jam over base. Put eggs and sugar in a bowl, then whisk together until smooth. Stir in coconut. Place & spread coconut mixture evenly over the jam. Bake for 20 mins, allow to cool and cut into squares.
Crunchie bars
Ingredients:
200g butter
400g  milk chocolate (I used Cadbury's Dairy Milk)
6 tbsp golden syrup
200g  digestive biscuits/Schar shortbread cookies – crushed
6 Cadbury's Crunches – crushed
Method:
The easiest way to crush the biscuits and the crunchies – or, at least, the way I do it, is to stick them in a Ziploc bag and beat on them with a rolling pin!
Add the butter, syrup and milk chocolate (broken into chunks) to a microwavable dish. (or a pan on the hob if you don't want to use the microwave) and melt – be careful not to over cook.  I did this in 20 second blasts, stirring at each break – you'd rather go a little 'under' and have the heat of the bowl melt the remaining lumps, than go 'over' and have a gloopy, unusable mess on your hands!
Add the biscuit and crunchie crumbs to the chocolate and stir together.
Turn out in to an 8×8 baking pan lined with parchment paper – and flatten with a spoon or spatula until even.
Place in the fridge for at least an hour to set.  Once hardened, cut in to squares.
Malteaser buns
Ingredients
200g milk chocolate
200g butter
4tbsp golden syrup
250g digestive biscuits (crushed)
175g malteasers
250g white chocolate
50g butter
1tbsp golden syrup
75g malteasers (crushed)
Recipe
Melt together the milk chocolate, butter and golden syrup
Mix in the crushed biscuits and malteasers and stir well
Spread out in a pan and compact the mixture
Melt the white chocolate, 50g butter and 1tbsp golden syrup and pour over the top of the biscuit mix and spread evenly.
Sprinkle the crushed malteasers over the top of the white chocolate – pushing gently into the melted chocolate.
Leave to firm up in the fridge for a couple of hours and slice in to portions.
Rice Krispie nests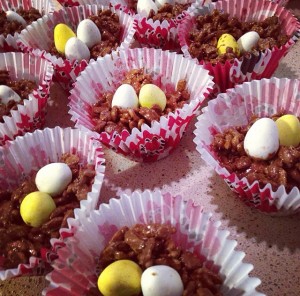 Ok, so we didn't *exactly* measure the quantities of these, but next time, I'll be sure to measure so it's all very scientific (and, y'know, helpful!!)
Ingredients:
8oz/225g of chocolate (white, milk or dark – it's a personal preference, we went for milk)
3-5 cups of rice krispies (we used gluten free rice krispies)
A few handfuls of mini marshmallows
2-3 Cadbury's mini eggs per bun
Sprinkles (optional)
Cupcake cases
Method:
Break chocolate in to squares and melt in a double boiler or in the microwave.
Gradually add the rice krispies to the melted chocolate and stir well to ensure the rice krispies are totally covered in the chocolate.
Add the marshmallows (once the rice krispies are coated, so the marshmallows don't melt!) and stir.
Spoon a heaped tablespoon of the mixture in to each cupcake case and push the mini eggs slightly in to the mix, so they look like eggs sitting in the nest.
Sprinkle with sprinkles – allow to set, either at room temperature, or, if they don't harden at room temp, stick them in the fridge for 30-60 minutes like we did.
Caramel pecan squares
Ingredients
3 1/2 cups coarsely chopped pecans
2 cups all-purpose flour
2/3 cup powdered sugar
3/4 cup butter, cubed
1/2 cup firmly packed brown sugar
1/2 cup honey
2/3 cup butter
3 tbsp. Whipping cream
Method
Preheat oven to 350F.  Arrange pecans in a single layer on a baking tray.  Bake for 5-7 minutes or until lightly toasted.  Leave aside to completely cool.
Pulse flour, powdered sugar and 3/4 cup butterin a food processer until mixture resembles coarse meal.  Press crumb mixture evenly on bottom and 3/4 inch up sides of a lightly greased heavy-duty aluminum foil-lined 13×9 pan.
Bake at 350 for 20 minutes, or until edges are lightly browned.  Cool on a wire rack until completely cool.
Bring brown sugar, honey, 2/3 cup butter and whipping cream to a boil in a saucepan over a medium-high heat.  Sir in toasted pecans and spoon hot filling into prepared crust.
Bake at 350 for 25-30 minutes or until golden and bubbly.  Cool on a wire rack until completely cool.  When cool, use foil as handles, carefully lift from the pan and transfer to a serving tray.  Cut in to squares.
Our first two tray bake sessions can be found here and here respectively and our baby shower tray bakes can be found here - if you try out any of the recipes, make tweaks or substitutions, please let me know! I'd love to hear about your own tray bake experiences and your favorite tray bake recipes.  We love to try new things in our group and I find myself looking forward to the next get-together, for the good food ad good craic!