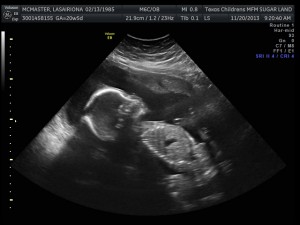 Today, we had our 20 week scan (at 20 weeks and 5 days really), as usual, I was feeling somewhat apprehensive.  Lately, I've not been feeling a lot of bubbles movements, and, with friends around the same gestation as me talking about their feelings and movements and hiccups and back-flips, I've been freaked the heck out.  I kept telling myself that it was my placenta, my sister-in-law, when she was pregnant with her little boy, had an anterior placenta.  I had to hold on to something, or I'd go crazy.
Turns out, I was right.  I have an 'anterior fundal' placenta which means that my placenta is front and top – absorbing a lot of the movements of little bubble.  This gave me comfort, it's not that there's something wrong with bubble, I just can't feel him thumping me as often or as easily as someone who's placenta is behind/low.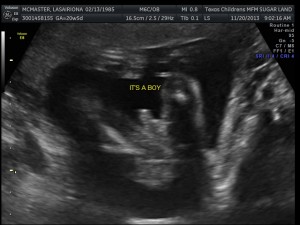 Yep, I said 'him'.
It's official –  contrary to popular opinion and old wives tales, we are having a baby boy bubble – and he wasn't shy about sharing that fact either!
I may have exclaimed 'It's a boy!', before the scanning-tech-lady, Linda, had a chance to tell us.  It was pretty obvious – had we wanted to keep it as a surprise, I don't think we could have.  Bubble was VERY proud of his manhood!
Bubble is currently a healthy 14oz, still measuring at 20w +5, his heart rate is still 155bpm, he has 2 arms and 2 legs (very confidently kicking the crap out of Linda's ultrasound contraption) fingers, toes, 4 chambers in his frantically beating little heart, diaphragm (correctly placed), stomach and kidneys (filled with amniotic fluid), brain, eyes, nose, mouth, spine, boy bits – all lovely! 
We are very excited and he is already a very handsome lad!!
Col has already started making a wishlist of toys that he's going to invest in for bubble, including Lego, Thomas the tank engine, Scalextric and Hornby – which, truth be told, he'd probably inflict that on a girl-bubble too!
Now the hard part starts, time to fight over names!