It hasn't been all that long since round I of our mostly-no-bake-tray-bake morning (round I can be found here), but with Jr on the way, we wanted to squeeze another morning in before he makes his grand appearance. You'll quickly learn that pretty much ALL tray bakes in Northern Ireland are called 'buns', Malteser buns, cornflake buns, wee buns, big buns – they're all buns.
I've already started to cobble together a bunch of ideas for the next round, but I think we're getting towards the 'bottom of the barrel' with the no-bake stuff, so we may have to start branching out in to the baked-goods before long.
I love these mornings, you turn up with ingredients for one dish, go home with samples of four – hubby is happy, you're happy, and you do 1/4 of the work to get the results – genius!
Alison was our host this time around and she made us some delicious homemade soup and wheaten bread to bring us home to our roots for lunch – it was delicious – and I've already requested the recipe so I can recreate it in my kitchen and further indulge in the taste of home.
Meanwhile, here are the recipes we used for our delicious no-bake or part-bake tray bakes this time around.
Cornflake buns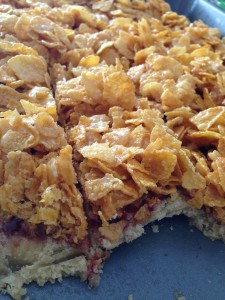 This time we each picked a recipe to make and brought the ingredients for our specific recipe.  I chose to do a Cornflake tart (as it's seemingly known online) but, for those of us who had it for school dinners in our youth, it's affectionately known as a 'cornflake bun' (isn't everything that has cornflakes in it?!) In school this was often served with custard, or, sometimes, just a wee glass bottle of ice cold milk. It's easy to make – it doesn't have a complicated recipe or a whole bunch of ingredients – and it's pretty damn tasty if I do say so myself!
For the gluten free shortbread base, my friend Alison gave me a fool-proof recipe, and for the topping part, I used a recipe from a blog I found online called Pudbakes, but I made a gluten free version, and have some comments about quantities that y'all should hear.
Shortbread Recipe: 100g butter/margarine (room temp) 50g sugar 175g flour (I used Bob's Red Mill GF flour)
Method Beat together butter and sugar, stir in flour and mix into a firm dough – I added a tbsp. of water to bind it together a little as it was all a bit dry and flaky at first.
Press into the base of a well-greased cake tin (8×8 or 9×9 would do for one batch of this dough). Bake in a preheated oven at 350F for 20-25mins until it turns a pale golden brown colour.
Filling recipe: 175g seedless raspberry jam 55g butter/margarine 55g caster sugar 25g golden syrup 175g cornflakes (I used gluten free cornflakes)
Please note:  I was NOT happy with these quantities, there was not enough 'sauce' to bind together the cornflakes.  In doing this recipe again, I would half the 'sauce' part of the recipe again and make 1.5-2 times the sauce, as the cornflakes are supposed to bind together well and not fall apart when you cut/touch them.
Method Spread the jam on top of the shortbread. Melt the butter, sugar and syrup. Mix in the cornflakes. Spread this mixture on top of the jam and leave to cool.
 Mars bar buns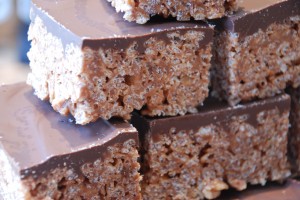 Ingredients
4 regular sized Mars bars
2 tbsps. of golden syrup
85g butter
3-4 cups rice krispies (enough to be coated in mix, but not too dry) These come in a GF version here too if you're interested in making a GF recipe!
250g milk chocolate
Method
1. Melt together the Mars bars, golden syrup and butter in a double boiler/bowl over a pot of boiling water.
2. Mix in the rice krispies until well combined. Spread mix into an 8″ x 8″ baking tin and refrigerate for 30 minutes.
3. Melt the chocolate. Spread over the krispie mix and leave it back in the fridge for 30 minutes until set.
4. Remove from the fridge and cut into squares
Please note:  I think the cutting in these recipes, should probably be done at room temp – we had quite a giggle trying to get the knife through the fridge-cold tray bakes!
Fifteens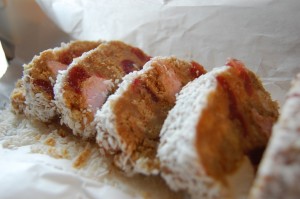 These things are a Northern Irish 'delicacy', they're not an Irish thing, not a British thing, but are very specific to the North.  They sound very bizarre, and I've found a 'variation' on them that I want to try next time as I don't like glacee cherries – but the husband loves these treats no end!
Ingredients
15 digestive biscuits/Schar gluten free HoneyGrams – crushed/blitzed into crumbs
15 marshmallows (at home they are 'pink and white') – cut into 4 or 6 pieces each
15 glacee cherries – cut into 4
15 walnuts (optional) – roughly chopped
1 small can of condensed milk
Desiccated coconut (for rolling)
Method
Mix together all dry ingredients except the coconut.
Stir in enough condensed milk to bind everything together – without being too wet or sloppy.
Make 'dough' in to a roll shape and roll in desiccated coconut to coat.
Place in fridge to set (around 30 mins) and cut in to slices.
Florentines
Florentines Base: 8oz digestive biscuits (crushed), 4oz margarine, 1oz brown sugar.
Topping: 4oz walnuts, 4oz cherries, 2oz almonds , small tin of condensed milk.
Melt margarine, add crushed biscuits and sugar. Press into a Swiss roll tin. Chop nuts and cherries and spread over the base. Pour tin of milk over the top and bake for 20 mins @ 180 oC.
When cold cut into squares.