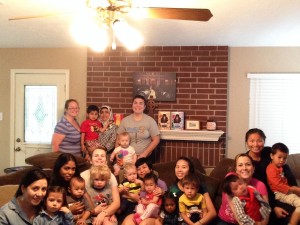 Being an avid Pinterest-er (yes, I may have made up a word) I can safely say that I was overwhelmingly curious when I stumbled upon a pin about a 'Busy Bag'.  I liked the concept, it was simple.
What is a busy bag? A 'busy bag' is a simple activity, that typically fits inside a Ziploc bag. It's designed to keep your little ones entertained, teach them about things (shapes/colors/numbers/fine motor skill), but also be cheap (the aim is to make them around $1-$2 each), and fun.
The idea, is so simple, in fact, that you can reduce it to a five-point-plan.
Step 1:  Pick a date (leave enough time for your attendees to buy supplies and create their bags).
Step 2: Invite mums.  I invited about 20-25 mums.  The more mums that attend, the more bags you get.
Step 3: Chose a bag to make – this could take a while.  There are any number of bag ideas on Pinterest, Google searches etc.  Consider the age of the children attending, and try to pick something age appropriate, or something they will 'grow in to' before long.  I made two bags, as I wanted to receive two full sets of bags.
Step 4: Make one of your bags for each mum in attendance.  Make an extra one or two in case you have any last-minute additions to the guest list.
Step 5: Get together and swap your bags.
It's THAT simple.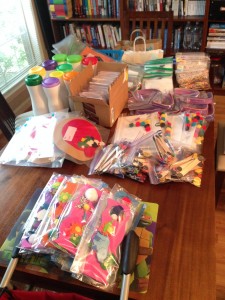 We ended up with eleven bags, and we kind of turned the swap in to an impromptu play date.  It was during the day, each mama brought shareable snacks, their kids, and we spent the morning having fun, explaining how to work our bags and eating good food – what more could you want from a morning?
Our Bags: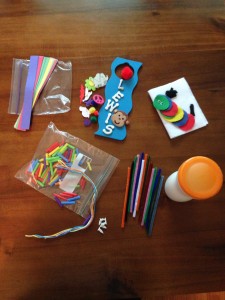 Top Row: Paper chain, personalized door handle, create your own caterpillar
Bottom row: Thread straws on yarn, put pipe cleaners into a container (both fine motor skill)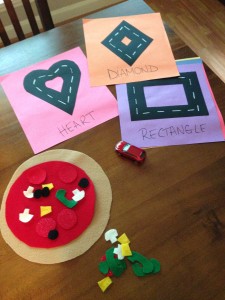 Build your own pizza and learn shapes with car tracks.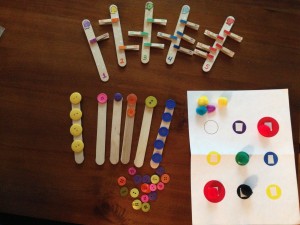 Counting and colors (pegs, buttons and pompoms)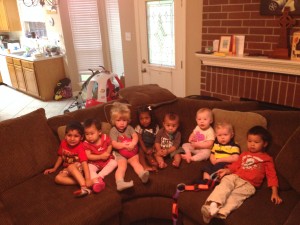 Aren't they FAB bags? I had a lot of fun, and I'm already planning the next busy bag swap for our group – there are hundreds of bags out there for us to make

and you can be sure these little ones all slept well that night too!