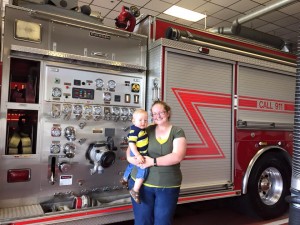 A friend of mine mentioned a while ago, that a few years back, SSA Houston organized a visit to a fire station.  After a brief search I found the information, sent out the invite, and, before long, I was making the reservation for a group of forty strong (any more and we'd have had to split it in to two groups, so keep that in mind if you're going to be looking at this event).
Ok, ok so it's still pretty hot and sticky out there, and there's more mosquitoes than you can count but although it wasn't an indoor in the AC kind of activity, it was shaded, educational, fun and it was enjoyed by both adults and kids alike.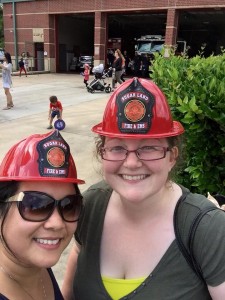 I wasn't sure what to expect to be honest, but I was pleasantly surprised as to how the whole thing was set up. Lack of on-site parking aside, when we got to Station 3 in Sugar Land, we were met by an ambulance, a fire engine and a crew of five fire people.  After introductions, warnings and reminders that we are, after all, standing in a live fire house and a little history, they began to talk to us a little about fire safety. Who to call, what to do, where to go etc.  it was equally as educating for the adults as it was for the kids.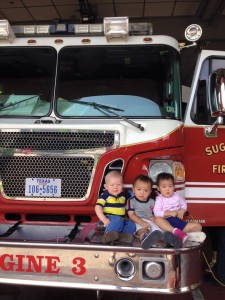 Next at up we learned a little fire procedure.  The suit, the air tank, the number of firemen who go out on a call, how they search for and find any fallen firemen during a fire, what to do if you're trapped in a room during a fire.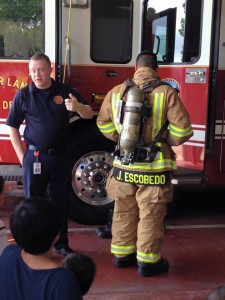 After the talk (which was interactive, so feel free to ask questions) the kids each got to take turns at sitting in the fire truck.  We all got to pose for photos with the truck and one kind fireman even took a group shot of our crazy gang.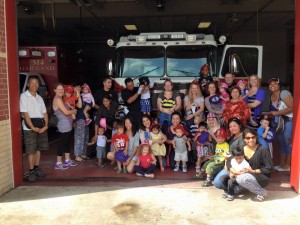 The kids got sent home with fire hats and safety information goodie-bags. It was a great experience for everyone.  I'd highly recommend you visiting your local fire station and meeting some of the bravest men and women in Sugar Land.  For more information on this free tour, go here.