Let me take you through the eateries that we frequented, when we visited Little Rock, last month.  Starting with Capitol smokehouse and grill
So, you want cafeteria style food from a guy in pajama pants? Go here!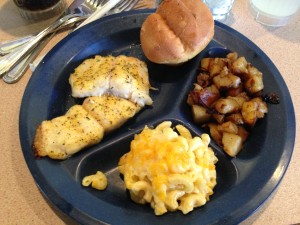 The baked catfish was VERY oily, but the mac and cheese and the potatoes were delicious, as was the cornbread (and I'm normally not a cornbread fan).  Hubby's pulled pork and brisket were both tasty – you'll know by now that I'm one for 'tasting' hubby's choices 😉 LOL!
Definitely had the OAP vibe from in here though, hubby and I were the youngest by a quarter century (and then some!)  The innards of the cafe could also do with an overhaul, a paint-job and a deep clean, but we'd probably go back if we were ever to go back to AR.  The staff were friendly, the prices reasonable and the food tasty, it seemed like everyone sitting eating were regulars – which is always a good sign!
Next up, let me tell you about the Capital Bar and grill
My advice? (which probably won't be the most popular) Keep on walkin' and don't bother!
Newsflash: my hubby and I aren't nearly trendy enough for this post-work watering hole.
Only a 20 minute wait at 6pm on a Friday night wasn't so bad, the restaurant is small – which is surprising, and it was busy – and loud.  Do yourself a favour, just ask for a plate of the Parmesan fries – don't waste time faffing with the pretentious menu, just go for glory!
I ordered what I thought was the 'grilled pork chop', I read that it came with fingerling potatoes, carrots and turnip.  I asked our server if I could have the butter on the side and sub broccoli for the turnip.  She told me the carrots and turnip were a mixed root veg thing and couldn't be separated, I opted for the broccoli.
Pork chop comes and 1. there's no potatoes, I guess the potatoes, carrots and turnip are all mixed together in the medley – which is not what I was told, and, in my opinion, is stupid, I like carrots and I like potatoes, I should be able to have both dang-it!! Pork? it's raw.  Not just a little pink, but totally pink and 'rubbery' the whole way through.  Like raw meat raw, not 'just about cooked' kinda pink, but the texture was that of raw meat – and I don't care what the USDA or whatever it's called say, I don't mess with pork – that's how my ma and da raised me.
I sent it back – not something I do frequently, but, again, I don't mess with pork!
It came back and the server patronisingly said, it was done 'sous vide' which, correct me if I'm wrong, but shouldn't that be on the freakin' menu? I'd have said, eh? what the heck does that mean? But I'd have at least gone in with my eyes open and informed.  'It's vacuum packed, cooked slow and long', so if it's still got a little pink in it, don't worry about it, all the bacteria has been killed.
Colour aside, which frankly didn't change between the time it was sent back (when my hubby got his food) and when it was brought back to the table (when hubby had finished his food), it has the TEXTURE of raw meat.
Not only that, but all of my research online says that even the thickest piece of meat, cooked sous vide, doesn't stay pink, it colours the whole way through – I don't have much experience with it, but the interweb rarely lets me down.
So, I asked for an order of the fries and ate the broccoli.
The server said she'd take it off the bill for me, cause I wasn't happy, but she wasn't particularly friendly about it, and acting like I was irrational for not eating wholly pink pork.
I didn't buy the hype and kinda wished we'd walked a few hundred feet more and picked somewhere else to eat!
One of the few places in Little Rock that's open on a Sunday afternoon for a bite to eat.  Somewhere that has surprisingly poor reviews, but was probably our favourite place to eat! Big Whiskeys!
Little Rock!! What is wrong with you?? This place was delicious! We almost didn't go here because of the bad reviews, but, it turns out, Little Rock isn't very open on a Sunday and it was the first place we got to that was open and we were starving, so it was our only option.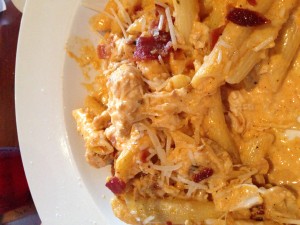 We shared the onion rings, I had the buffalo chicken pasta (which tasted much better than it looks!) hubby had the bacon ranch pasta and we both LOVED it.  Service was friendly and quick, food was hot and tasty and we'd happily go back here if we were in town!
On the recommendation of one of the peeps from the old state capitol building, we hit-up a little place called Boscos for lunch.  We were very disappointed that the balcony is under refurb.  I hear that the view is lovely!
We started with spinach and artichoke dip, the dip itself was lovely, but the crostini? DUDE! Be kind to our molars! Go with some slices of french bread, or pita chips, I felt like I was chewing through stones.  Hubby got a pasta special, it was marinara pasta with sausage and pepperoni – it was delicious!  I got the blackened fish sandwich, it was a little plain, could have done with a thicker piece of fish and some more remoulade, but it was tasty.  Service was pretty slow though!
Surprised at the low ratings for this place!
Odds and ends:
If you want a good breakfast, go to the Double Tree in downtown and pay the $15 for all you can eat brekkie.  It was probably the best breakfast buffet we've ever had in a hotel.  The service was excellent, they had a great selection of teas, the food was tasty, the restaurant was large (no wait to get seated) and it has a great ambiance.
If you want a good dessert, DO NOT go to the Flying Fish they served us still frozen-solid (practically freezer burned) freakin' key-lime pie and a cold bread pudding (sold as 'hot', obviously microwaved!!!)
Check out the 'General information' and 'What to do' in Little Rock, Arkansas…