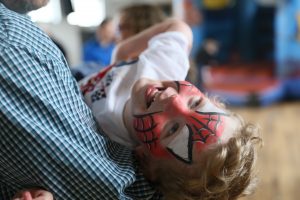 I was determined not to take an entire 365 days to get my sh*t together and post about Lewis' 3rd birthday party this time around.  I mean, I get that life got in the way last year, but his 2nd birthday post was *so* entirely lost in the recesses of my blog drafts that I utterly forgot ALL about it.
This was Lewis' first birthday party at home, and, considering his parties are something of legend from our last two years in Houston, and our apartment here isn't big enough to swing a cat in, that I was going to book a community centre hall, here in Larne.
Since we've barely been around much since we bought the apartment, I had no idea where to go.  I put a call out on a local mums page and got the recommendation of The Cliff, 60 quid, two hours, hall rental and a bouncy castle – sorted! I opted to add an extra hour (30 before, 30 after) for set up and tear down, cause I knew the 30 minutes that came with the package (I was right).
The theme was Cars, when I picked it, we were going for a planes, trains and automobiles theme, so Disney cars wasn't the specific choice at the time, but Lewis became quickly OBSESSED with Disney Cars (especially the tractor scene) and the decision was an easy one.  The colours were red and yellow, and daddy ensured there was as much Mater presence as we could cram in to the party.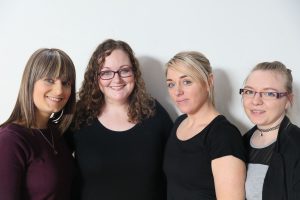 We have a much smaller circle here in the UK than we did in Houston, so the number of kids was less, the number of adults were less, but the amount of food and effort put in to the party was probably more – I can't help myself! LOL!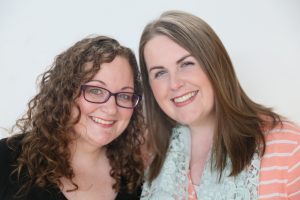 And those that came along? Seem to have had a blast, and went home happy, full and most of the kids were well tired out from all the running around.
The Cake and Cupcakes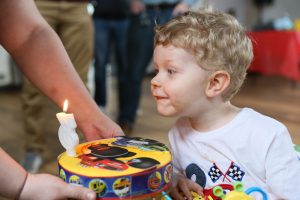 Let's get this out of the way right off the bat.  I didn't want a cake – no one really eats it, it's always way too big for the amount of people you have, regular sized cupcakes wind up half eaten or in the bin, so I wanted mini cupcakes.  I have a cupcake lady here in NI and I opted to get three flavours, twenty cupcakes per flavour. Chocolate with chocolate buttercream, vanilla cupcake with lemon curd middle and lemon buttercream, vanilla cupcake with raspberry filling and a coconut vanilla buttercream – with edible, themed toppers.  Delish.  Sixty mini cupcakes.  A bite, maybe two, limited waste and everyone goes home happy.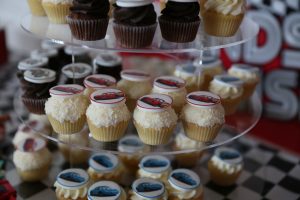 This was fine until Col insisted we needed a cake.  We were going to go for a simple, buttercream covered cake and being quoted fifty pounds for a cake that I *could* have made, but was just a little too lazy to make, I opted for a Blaze cake from Asda for a tenner – it's another current favourite of the birthday boys and it's close enough to a car to pass in an automobile birthday party.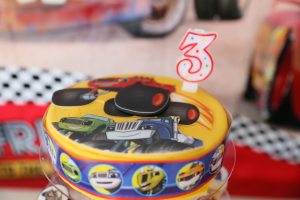 The decorations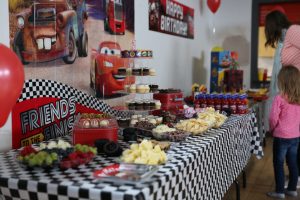 Being a community centre, the room is ginormous, so there was no way I was going to be able to decorate the entire thing.  I didn't have a rail to act as my back drop for the yellow curtains that I picked up in Target on clearance before we left the states.  So we got a similar plastic back-drop/poster decoration as we had last year for his Thomas party.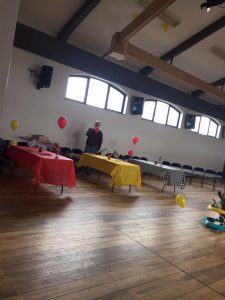 The table cloths were a mix of party colours and, a late addition, checkered flag table cloths, as we had more tables than we did tablecloths.  Col grabbed a helium tank and inflated a couple of helium balloons that he tied around the room.  We picked up some checkered flags that were thrown in some Disney Cars cups as last second centre-pieces and I bought some little rubber wheels from Amazon on a whim, to stack and scatter around the food and dessert tables – turns out, these were quite a hit and became toys for the kids to play with during the party.
We had a Cars Happy Birthday banner for out the front door of the community centre – there's no sign on The Cliff, to say 'hey you're at the right place', so it was just a wee marker to let people know they weren't lost.
We also had a food labelling kit (most of which wasn't used), but we had little food flags, straw flags and stickers for things like the jar of salsa and dips.
The Food and Drink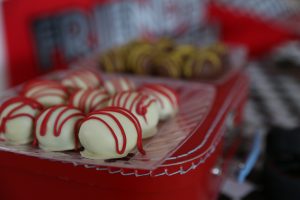 Not-Las made cupcakes and store-bought cake aside, the dessert table comprised of two flavours of oreo truffles (mint dipped in milk chocolate, and strawberry dipped in white chocolate), as well as banoffee balls.  I threw together some of Godmother Sheri's date crumbles so a little bit of her would be at his birthday party too.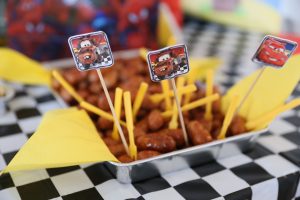 I had various crisps, and sweets from the sweetie aisle in Tesco (seriously though? Who doesn't love giant strawberries, strawberry laces and sweetie teeth?!)
Going on parties from Houston, where parents are increasingly health conscious, I had fruit and veggie trays with multiple dips, caprese skewers and sandwiches.  Bringing up the unhealthy (and hot food) side of the table I had buffalo chicken dip, cocktail sausages and cocktail sausages.
Drinks wise, kids had 'Thank you for coming to my party', personalised Lewis labels, adults had soda/pop/fizzy juice – I was supposed to pick up water, but with the crazy of the morning it evaded my memory.
Party Bags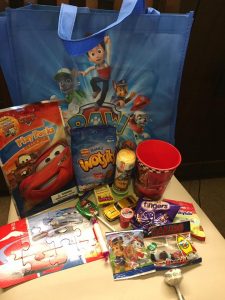 This years party bags, were my best to date! I got some Paw Patrol fabric totes on valentines clearance for 39c a piece, I had Disney Car's plastic cups from Walmart (99c), Disney Cars bubbles with a puzzle on top, Disney Car's self inking stamp, a Disney Cars jigsaw puzzle, a Disney Cars play pack and a Matchbox car for each party bag.
Edible treats consisted of Paw Patrol edible gumies, Halloween haribo (I got on clearance at Tesco, wotsits, raisins, a Paw Patrol chocolate lollipop, mini Cadbury fingers and a little pouch of buttons.
Clothing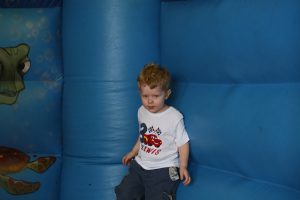 Aunty Magz was on the ball this year with ordering a themed t-shirt, daddy forgot to order one for his second birthday, but his 1st and 3rd birthday parties involved a shirt,with the theme, his age and his name – I LOVED this years Cars shirt.  A LOT!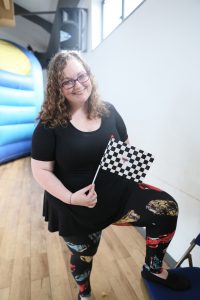 As for me? I did a little 'unicorn hunting' within the realms of Lularoe and came up with these car leggings (couldn't get a pair for Lewis to match!) and I was comfy and theme-fitting for the day!
Finishing touches.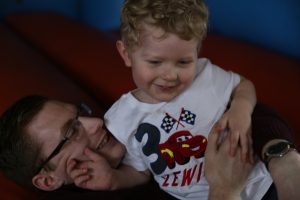 When I was growing up, my parents always went all-out on our birthday parties.  Whatever they could afford, but always a little 'more' than our friends.  All my friends wanted invited to my parties.  Birthdays were always very important in our home.  The day you were born? It's a pretty freakin' huge deal.
I've always been the same when it comes to Lewis' birthday parties.  He was so very wanted, and he is loved more than I knew was possible, and I believe in celebrating his little life to the max on his birthday, as I'd like to think that for the rest of the year (aside from when he's in Grannies house), he's not too spoiled at all.
So, with that in mind, in an addition to the bouncy castle, on a whim I priced a face painter – I'd seen their information advertised in the community centre only three days pre-party, when I went to extend our reservation.  I emailed them, fully expecting them to be booked up.  When they replied and said that they were not only available for the party, but they were only 45 quid for the hour, for around a dozen kids, probably some stray big-kids who'd want their faces done too, for face painting, glitter tattoos and balloon animals, I jumped on it.  I wanted this party to be a little special for the kids, but also? Things like a bouncy castle and face painting in Houston would have cost exponentially more than that, so it was an easy sell.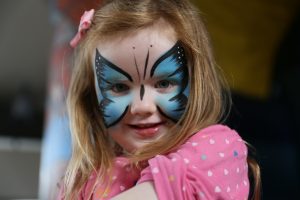 Not only was she prompt in arriving and setting up, but she was detailed in her face painting, and good.  The boys stuck to getting all Spidermen, the girls went butterflies and a princess – it was a great level of skill, not just stars and flowers and I'd highly recommend them to anyone in the mid-East Antrim area for their parties (info@carnivalpromotions.co.uk).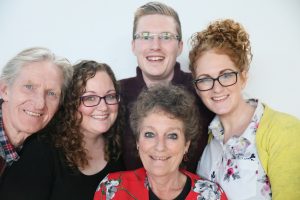 Lastly, but, most importantly, I asked my cousin Paula to come along to take some snaps on the day at the party.  I'd had my friend Sandra take pics of his first party, we didn't have a photographer at the party last year and I missed it.  So I asked her to make the trek up from Newry and join us with her camera – I am so very glad I did.  We got some updated family pictures, some great snaps of my party planning wizardry for the blog and she captured some lovely pictures of my friends, their kids and just 'in the moment' memories that I'll cherish forever.