So, yesterday, I had a couple of somewhat, unusual, cultural experiences.  I'm not sure that I'm fully recovered just yet, but, since so many of you loved my experience-oversharing on SnapChat, I figured I'd share it here, for prosperities sake.
I booked myself in for a massage at 'my' salon.  It's the place I go for ALL my beautifying, my mani-pedis, mendhi/henna decorations, to have my hair washed, cut and blow dried and even my threading done too – it's an all-round kinda salon, and, not only are their prices are great, but the girls who work there are so lovely – plus? They make really good tea, turn the lights off when they know I'm stressed out or tired, and they aren't too chatty or imposing unless you want them to be.
It's a tranquil, quiet little haven, in the 'upscale' part of town.  They always fit me in to the schedule, whether I give them a couple hours notice, or a couple days, and, typically speaking, I always come out with more than what I went in for – and they always make the extra time, for my extra services.  Yesterday, for example, I went in for a full body massage, and came out with a blow-dry accompaniment.
I've had my fair share of massages in both the UK and the US.  You go in, strip to your knickers, lie under a blanket/sheet and enjoy the experience – but the butt and boobs are off limits.  This was my first massage in India and it was, well, it was a little different.  I'm sure you can guess where I'm going with this.
I got a bum massage – and even my boobs got a good rub-down.
It came as quite the surprise!
One friend said she didn't have it happen during her massage at a local hotel.  One friend said it's pretty typical of massages in India (she comes here for work sometimes and has experienced it herself) and another friend said it's pretty common, though typically they ask for permission, or at least give you a heads up.
It was, by no means unpleasant, or, in any way untoward, but it was just a little bit of a culture shock, and felt incredibly odd to be paying another human being to give my boobs a rub-down! LOL!  I guess they certainly aren't kidding when they say 'full body massage'! Ha!
Follow this by #GourdGate, within a matter of hours no less, and it was quite an enlightening day about Indian life and culture.
What, might you ask, was #GourdGate?
Well, rapt readers, let me tell you.
#GourdGate, was ordering, what I thought was the pumpkin in the picture below.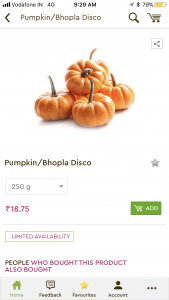 Little punkins.  Decorative punkins.  I only ordered one of each kind, because I wanted to make sure it was the right thing before I ordered a bunch for my Thanksgiving table décor.
What I got? Was in the picture below.  ACTUAL, you need to cook with this, pumpkin segments.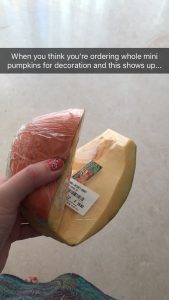 Which I promptly handed to Albert, the chef, who turned it in to pumpkin and potato soup.  Thankfully.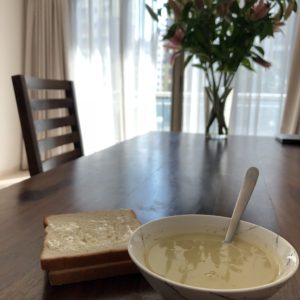 Now the hunt for garnish gourds continues… I think I've had more than my fair share of culture shock for this week, but? The silver lining? Was that I surely rocked a kick-ass hairstyle for the day…here's to the next culturally different discovery!