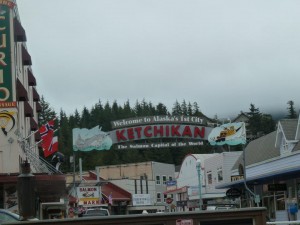 With even less time in Ketchikan than the other ports, we didn't have a lot to play with.  However, I'd have rathered a little more time here and perhaps a little less time in Sitka, there's much more to do here than you realise.
What we did:
Shopping
Again the streets are lined with stores, chains and independent ones alike.  I'd say, without a doubt, that the best place for souvenir shopping, is Ketchikan.  It's the cheapest place we saw, it had more choice and options, and the stores are bigger too – many of which give out 'free gifts' with purchase, like tote bags.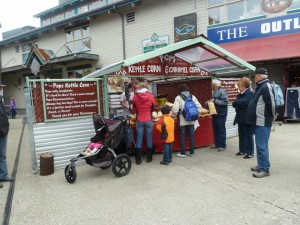 One of my personal favourites, is the Christmas store – which, coincidentally isn't too far from the popcorn stall – try the Chicago mix, it was a pretty darn tasty mix of sweet and savoury!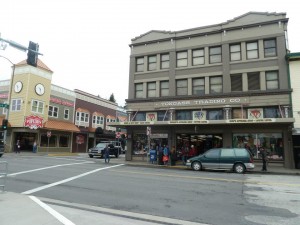 Visit the Tongas Trading Post just a few yards from the dock in Ketchikan. They have the lowest priced Alaska memorabilia. Buy the generic ulu knives and save – though I got my own Ulu knife in Juneau and think it was of better quality than the ones on offer in Ketchikan that I saw.
Ketchikan Lumberjack show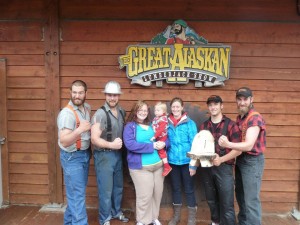 This is a must-see during your visit to Ketchikan.  It was also the only 'official' excursion we did, and that was because we couldn't find a way to buy tickets that wasn't through the cruise ship's website.  However, when we got to the Lumberjack show, we discovered that you can buy tickets on-site, so don't feel obliged to buying through the cruise line.
The show itself is wholesome, family fun and a great show.  The show lasts about an hour and is a great price at only around $35 for adults and $17.50 for kids (we paid for Eve to have a seat, but further investigation showed that we really had no need to, toddlers don't need tickets).  The show was great, wood chopping, pole climbing, log balancing, axe throwing and log-sawing and a team of great lumberjacks who were more than willing to pose for pictures and sign autographs when the show was over.  We all had a great time!

Other things on offer (or things we would do if we were to go back to Ketchikan):
Duck (bus) tour –
$42 for Adults, $25 for kids (2-12yrs old) and FREE for kids under 2yrs! (Purchase your tickets in advance and the price is only $40 for Adults).  You'll see the tour bus once you disembark the cruise ship.
The Totem Heritage Center,
admission is around $5.00 per adult, but there are totem poles outside the center that you can walk around for free.  It's not too far from the docks, but a decent walk (and a short cable car ride).
Visited by thousands of visitors every year, historic Creek Street is one of the most popular things to do in Ketchikan. The antique boardwalk on wooden pilings over Ketchikan Creek is home to restaurants, unique curio shops, the 'Dolly's House Museum' & private dwellings, and though we didn't get to investigate too deeply in our short time there, I'm told that it also has some of the best salmon viewing areas in Ketchikan.  Apparently married Man's Trail and the Salmon Ladder are also not to be missed when exploring Creek Street!