What can I tell you about the cruise line, the ship itself and our experience on board?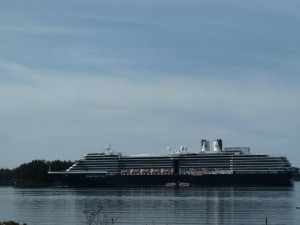 The Ms Oosterdam is a vista-class ship, these are the biggest and newest Holland America ships (HAL) currently in service. They were designed mainly for shorter (less than two weeks) cruises in the Caribbean, Alaska, and Europe.  These ships are notable because of the exceptionally high number of private balconies – over two-thirds of cabins have them.  We didn't have a cabin, if we were doing a longer cruise, with more days at sea, I'd have liked a cabin to enjoy being in some private outside space.
The ship was huuuuge to me, but I'm sure by cruise ship standards it's probably average on the sliding scale.  I figure I'll write a number of bullet points and hopefully cover as many bases as I can.
Join Cruise Critic they have a great forum section where you can read pages and pages and pages of conversation threads from real people who have been on cruises.  Search by cruise line, search by ports of destination or search by excursion and you'll have a wealth of information available at your fingertips.  Joining this forum was the best piece of advice my cruising friend Jo gave me when we first booked our cruise!
Every night before bed, you'll find the daily calendar on the foot of your bed (next to the chocolates and towel animals).  Take a look, read through it and figure out what's going on.  We did bingo, a show, afternoon tea, pub quiz, 'name that tune' in the piano bar and a cocktail making class – to name a few, it was an excellent resource on board to help us plan our day.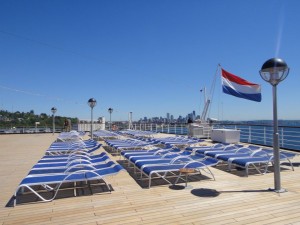 It's a lot of fun, there's two of them on board, at least four hot-tubs and with those views out the window? Enjoy it!!
Daily service charge for all HAL is $12 per person, per day (suite passengers) or $11.50 (pp, pd) for all other categories.  This, plus around $5 of taxes and fees are added to your shipboard account at the end of each night.  This service charge covers the tips for your cabin stewards, dining room staff, cooks, laundry cleaners etc.
At first I wasn't sold on this service charge malarky.  I didn't like the idea of an auto-charge for service, because I don't believe that servers in a restaurant are entitled to a tip, give me good service and I'll give you a good tip, but I want to have that option myself.  It's my decision to make.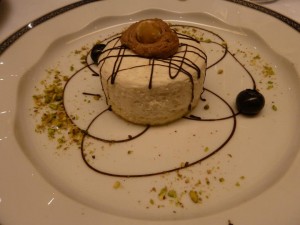 However, after spending a week on that floating five star hotel? Dang that service charge is CHEAP! Which brings me to my next point:
"Do I tip more than the daily charge?" is a commonly asked question – I, myself didn't know the answer to this before I left port.
We didn't add any extra tip for the most part, however, we gave a little something to our cabin stewards Budi and Hari who were excellent.  They weren't intrusive, they were professional, quick, they brought us whatever we needed and they were very skilled at making towel animals.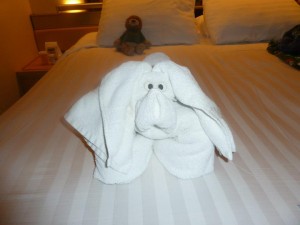 The other person we gave an extra tip to, was our dining steward.  On the first night of our cruise we found the Vista dining room and we had Ben wait on us (and a few of his colleagues).  Every time we went back to that dining room (which was every night for dinner, a few afternoons for lunch and at least one breakfast) we requested that the guy at the door who worked the seating chart put us in Ben's section (normally at our regular table).
Ben was first class! He got Eve lactose free milk every night (carrying her sippy cup on it's own silver platter), he brought Eve's dinner as soon as it was ready so she didn't have to wait for food, he was pleasant, had a great memory (he remembered we didn't like ice) and his team were fab – they all loved Eve, she was like a rockstar!
Our additional tips weren't a huge amount, but they were enough to let them know that we appreciated their hard work and didn't want it to go unnoticed.
Don't feel obliged to tip extra, it's not at all expected, but if you get particularly great service, and have a few bucks left in your holiday fund, it'll definitely be well received by the servers.
Many people put a tip (usually $2) in the slot on the door where the 'Do not disturb' sign is kept so that it is close at hand when they deliver – as the staff don't tend to linger much for tips.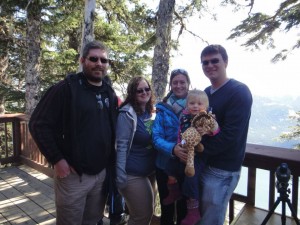 Make sure you have extra memory for your camera… and a spare battery… and the charger…you're on the trip of a lifetime – the last thing you need is to discover that you are missing one of these items at a moment when you see some whales, or a beautiful glacier.  Trust me – that would suck!
Skip the on-board formal pictures.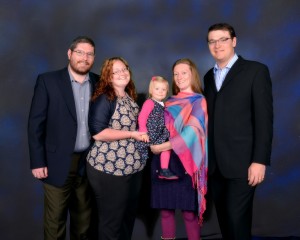 We didn't, we got sucked in.  Though what they don't tell you? You've got to pay $40, yes FORTY dollars PER picture – can you believe that?! $20 for embarkation pictures, pictures you have taken every time you disembark, pictures in the dining room – which are moderately better priced.  That said, the staff weren't just unfriendly, they were verging on rude, quality of the pictures weren't great, in fact, some of them have a distinct fine green line around our heads from the green-screen behind us.
We bought them because the people we were on the cruise with are leaving Houston soon and we wanted to have some 'posh pics' taken before hand.  By the time you get to the counter and discover the price, you're already invested in the pictures – don't do it.  Walk on buy and hire a photographer for an hour when you get home – the price would be the same!
Whatever time that the ships itinerary says is 'arrival time', it is really the time that you can go ashore. If you want to experience the arrival, you better be up and around at least one to two hours earlier.
For the most part, we just walked off the ship, in Sitka, we needed to be 'tendered' (little runabout boats) from the ship to shore, thankfully we got off the ship and back on the ship pretty early, so there was no real line, but I imagine you could have been there for a while if you'd timed it wrongly.
For disembarkment, we got assigned a time to leave the ship, so again – no queuing!
Our room had a small refrigerator in it, but I know a few people who have said that there were no cabin refrigerators in their room in the O'dam – just coolers good down to about 25 degrees below whatever temperature you keep the room set at.  I guess we got lucky.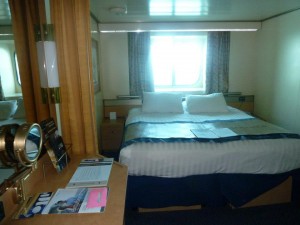 The only issue with the fridge was that, like in a hotel, it was choc-filled with 'mini bar' stuff, so there wasn't much 'your stuff' room.  Which was a pain, but since room service was free, we could just order stuff we wanted as and when.
This is a HUGE plus! When in hotels I always WANT to order room service, but with 18% ++ taxes and fees and tips it's never worth it, in fact, it's quite the opposite.  But with food cost included in your package and tips accounted for in the daily service charge, you can order what you want from the room-service menu and they'll bring it to you.  This was great, especially for breakfast.  We ordered room service breakfast almost every day, you got a little card (like in a hotel) where you can pick what you want and when you want it.
Other than for breakfast, we didn't order much via room service, but it was great to have it there, twenty four hours a day.  There was also a little card you could fill out requesting the room stewards leave you an in-room fruit basket which was replenished daily – which was great for snacking in the evening, or taking on shore as a snack too.
Excursions: Cruise line -vs- independent booking
From reading the forums on cruise critic, I quickly learned that the excursions are MUCH cheaper if you book them yourself, but you are then left with the task of logistics and organising your own travel etc.
That said, most of our excursions didn't need much logistical planning as the activities were pretty close to the port .  We are good organisers and don't mind doing the 'leg work' for our own activities, I guess the higher cost for the cruise line is because they sort everything for you, so it's more like an up-charge for convenience.
Book it yourself, it's easy to do, saves you money, plus you get smaller tours, set your own pace and usually get to see more than the large cruise line tours do.
Be prepared to pay for your excursions at time of booking.
Many people also print out all of their excursion confirmations and put them in a folder so they have all paperwork to hand.  I just kept them all in my email and pulled them up when I needed them.
Appropriate clothing is KEY to enjoying much of an Alaska cruise.
When I was getting ready for the cruise I had read that Alaska can be warm, cold, wet and dry.  All in one day.  I read to pack clothing that you can layer instead of one thick layer. Gloves and hats can come in handy. And a top layer that can keep you dry.
We brought hats, scarves and gloves, hoodies and a rain mac, we stopped shy of the ski jackets.  However, the weather was fantastic!! We barely needed any of it! Aside from the whale watching excursion being freezing for ears, hands and noses, and Victoria BC being rainy and miserable, we really had sunny skies and warm weather.  That said – it's never guaranteed, be prepared!
Be sure to take at least two pairs of good walking shoes (in case one gets wet or starts to bother you) and a lightweight jacket for rain that you can fold up and stash in a small backpack or purse (also good for layering if there should be unexpected cold). Take sunblock and if you are going in the summer months, something for mosquitos.
Load up on the one dollar bills!
Take lots of small bills for tips for porters at the airport, at the port, on the ship.  It may make you feel like your purse/wallet is bulging and you have a ton of cash on hand, but trust me, they'll come in handy fo sho!
 Plan on being "early to bed, early to rise" to maximize your sightseeing while cruising.
Early morning in Alaska on a cruise ship can be pretty freakin' magical, in fact, the entire cruise is magical.  Go out on deck whenever you can (especially if they offer some pea soup!) take in the breathtaking scenery, take pictures upon pictures.  If you're sensitive to light, bring clips to peg curtains together – this came in handy for us, as there's a lot of light and it comes out very early indeed!
While the ship will have internet plans and offer packages of minutes, don't do it.  Leave your laptop at home and go tech-free.  I didn't even bring my netbook to make blogging notes – which is unheard of for me! It was the best decision I made.
Turn off your phone – roaming 'at sea' charges are INSANE.  You'll have signal in ports and when you're on land, if you need to stay connected (or send your sister random pictures from your holiday like I did) only use it when you're connected to your network!
Take advantage of Happy Hour!!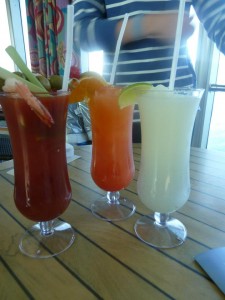 The ship will offer buy one get one for $1 offers, happy hour specials and a 'drink of the day' – they will be in the daily explorer, it's definitely a great way of saving a few bucks on drinks!
For alcoholic drinks from the bars throughout the ship, a 15% (I think it was) service charge is automatically added to the bill, so don't be surprised when your $6.95 drink is charged a little higher.
Fancy something a little classical?
If you like music – check out the strings – it might be 4 piece or it might be a piano and violin – changes! – but if it's good it's worth enjoying.  We had a violinist and pianist for the most part, there was an occasional singer/guitarist in the crows nest coffee shop, a band out on the pool deck and other entertainers in the evening shows in the Vista lounge.  There was definitely a lot of music on offer, there'll be a selection or two every day for you to enjoy!
I know, it's tempting.  You see there's a package that's cheaper for you, it's got access to the all-you-can-eat buffet in the Lido restaurant.  Pay the upgrade for the other areas of the ship.  Eat in the Vista dining room every single day of your cruise, three times a day if you can.  Five stars, four courses.
Portions are small which means you can have the full four-course experience and not feel like you're starving, or overindulging either.  Having someone else control the portions means you're not prone to severe over eating – this comes in handy.
The options tend to be a mix of healthy and some slightly unhealthy options.  The servers are ken to please, so you can order something – with changes – if you want to make it more healthy.
Also, and quite importantly.  Having the staff be the only people in contact with your food is a good thing, minimises the risk of getting sick, which is something they are very gung-ho about for the first 48 hours of your cruise.
The Lido doesn't even compare to this place in the slightest.  Don't give the Lido a second thought, stick with the fantastic gourmet dining of the Vista lounge, try new foods that you probably wouldn't pay for in 'real life' (hubby tried scallops, escargots and lobster for example).
If you're not going on the Ms. Oosterdam, my advice is to shop around! Don't just pick the first restaurant that they open when you get on board.  Check out the other restaurants covered in your package.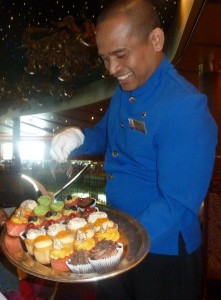 The Vista lounge also hosts daily afternoon tea in various forms (afternoon tea, cupcakes w/tea, Indonesian tea ceremony), it's a great place to go for any of your meals!
Oftentimes, people make a pretty big mistake, they wait until they get in to port to decide what they want to do on their vacation.  I'm a total over-planner, I have a calendar that tells me what to do every day, on vacations, I research and read more reviews on trip advisor than I can count and my trips are planned to the Nth degree.
Once you step foot on land, the selection is going to be a fraction of what would have been earlier. Some tours you cannot do, with 'walk-off' booking. Time in Alaska is short- it's up to you how you want to spend it.  If you choose to wait, at the very least, please have an idea of what's available, a general idea of what you want to do and a list of contacts to make it happen. This 'last minute' plan does require you to be somewhat flexible and accepting of some tours not available or having inconvenient times.
Figure out, what YOU want out of this Alaska trip.