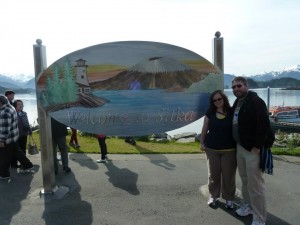 In Sitka, we only had around 7hours but it's a small, walk-able town for the most part, so we did a few bits'n'bobs once we were tendered to shore from the ship.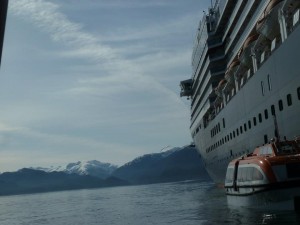 We ate lunch in the Bay View restaurant, cause Yelpers gave it a higher review than the local competition. Though in retrospect, we wish we'd gone elsewhere, while the fries and onion rings were tasty, the service wasn't great, the staff wasn't particularly friendly and the rock fish wasn't good, especially compared to the place we ate in Juneau the previous day.  Shame that the best rated place in Sitka is a Mexican restaurant – we want good, local fish dangit!!
What'd we do?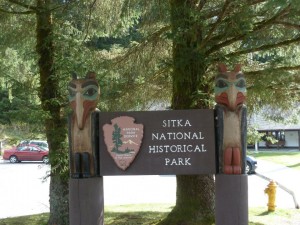 We walked the mile and a half stroll to the National Historical Park where we walked around the trail, which takes you around 18 totem poles.  If you look on the back of one of the totem poles, there's a phone number on the pole.  Call the number and listen to the lady tell you all about the totem poles, the history, the designs, what they mean and where some of the originals are.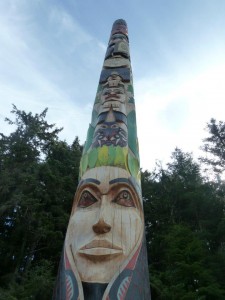 It's free, it's beautiful and there's some fantastic wildlife around – we saw a baby eagle up in the tree, and he was pretty cool about just sitting nicely for pictures!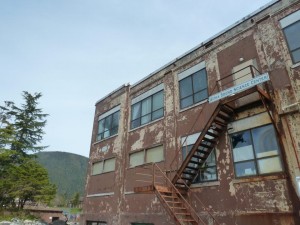 There was a fee to enter, but, from memory, it wasn't that much, $5 per person.  The aquarium is small, but the salmon hatchery part is pretty fascinating (though I'd love to leave with a piece of salmon! LOL!) The guide knew her stuff, she talked us through the life cycle of the salmon, taught us the five kinds of salmon, how to remember them, how they live, how they die and showed us examples (plastic) of each.
The on-site dog is super friendly and I got some great shots of a huge eagle just sitting on one of the mooring poles in the water, probably hanging around waiting for salmon!
Shopping
The streets are lined with lots of little, independent shops.  Filled with trinkets, Alaskan goodies and great finds.  I got a gorgeous sterling silver whale tail charm for my bracelet, in one of the stores and it has made me smile every time I've worn it.
Other things on offer (or things we would do if we were to go back to Sitka):
St Michaels Episcopal cathedral – we walked past this but didn't go in for a look-see.