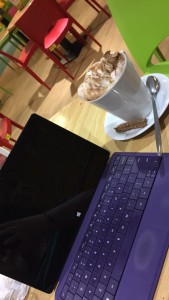 I wrote this post last week – just haven't had a moment to scratch, to finish it up and edit it.  Needless to say, this will be the first, of what I'm sure is many blog posts about being a mum here in Northern Ireland, facilities available for kids and other such things.
——————
As I look out over this magnificent vista… wait.  Wrong show.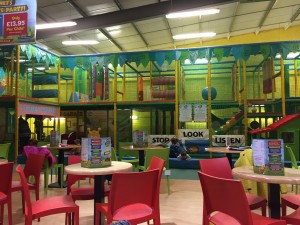 As I sit here, on this hard plastic throne and listen to the screams of a hugely disgruntled child as his grandmother attempts to drag him from whatever life changing toy he was playing with, as I watch the two poles of 'human experience' unfold before my eyes and am impatiently wait for my chicken goujon lunch to appear, I thought, perhaps, that it was high time I wrote my first 'mumsy' post from sunny Costa del Larne.
For the record, by 'human experience', I mean both the best and the worst.
I've just witnessed an older girl, completely unprovoked, grab an older boy by his head and smash his head into the floor of the play area, while he was howling in pain, I, simultaneously, watched a little girl – who had previously been doing some epically good round kicks on those punch bag looking things – take my sons hands over top of an obstacle he was trying to scale, and attempt to help (gently) pull him across.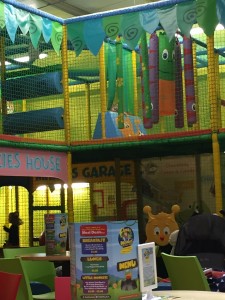 While it didn't work, and I sat for a good eight or nine more minutes, patiently watching him try to figure out how to get his little self, up and over this foam blockade (you can just about make out his wee head over top of the blue foam thing in the picture), he figured it out himself and I gave him a quick thumbs up, before heading over to thank the mother of the little girl, for not raising a face-smashing little wench, but a caring and helpful little girl, a stranger to my son, who tried to help him when she saw him struggling.  I imagined her heart leapt when she saw someone coming over asking if that little girl was her little girl, but instead I got a 'yeah, she told me' and a 'what the hell are you doing over here talking to me, lady', kinda look.  Screw you.  Ugh.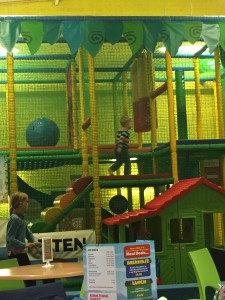 While living in the US, we had a few indoor play areas that we loved, nine bucks (ish), unlimited play time, typically an in house café – with varying successes in food provided – and a very happy, exhausted and sweaty toddler at the end of it all.
Coming back to Northern Ireland, I quickly became aware that we weren't in Texas any more Toto.  The going rate for indoor play here, is around five pounds, which, in 'real money' is about $8 before the pound tanked.  Sounds on par, right? Well.  When that $8 only covers 90 minutes, you see, friends, we have a problem.
The problem here is, friends, that I have a boisterous and energetic little boy.  I have a little boy, who could easily burn through three hours in an indoor play area, doing the same thing over and over, and over again, to his little hearts content.  Who would cry, and scream, and protest were I to try and remove him from his fortress of fun.
And then I read about Funky Monkey's membership.
$12 per month (that's pounds, but I'm on an American computer and can't figure out where in the name of all things, the GBP sign is).
UNLIMITED entry to the center, 7 days a week.
UNLIMITED access to activity programmes
10% off birthday parties
10% off at their café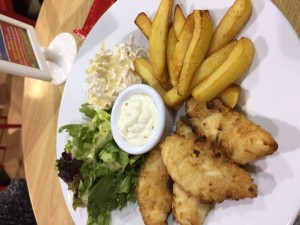 Not only that? But you can use this membership in ANY of their locations around the north, there's one in Larne, Newtonabbey, Banbridge, Dondonald…I'm not sure where else.  All I know is that the 'city pass' as I'd call it in a Houston context, means that I can use any of their branches under my monthly membership.
Sunday, we took Lewis to the one in Dundonald.  We had Halloween activities planned, but the weather didn't comply, so we opted to cross the car park from the place we had breakfast and throw him in to Funky Monkey's for a while.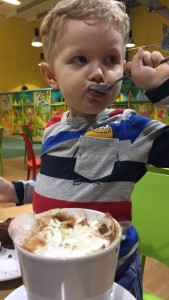 I've been sick since Sunday, til yesterday (Thursday) and today, we're back, here at the one in Larne, where we have already made friends with one of the girls who work here, Megan – which, brings up another point, the staff in Funtastics were verging on being rude, even, not just standoffish.  I've not found the funky monkey's crew to be like that at all.  They're friendly, kind and helpful.
So, my advice to the mums of Northern Ireland? Grab a membership to Funky Monkeys – it's worth it.  You cover your monthly membership, with less than one trip to indoor play a week.  And, if you happen to see your local blogger sitting trying to wrestle her hot chocolate out of the hands of her toddler? Come say hi.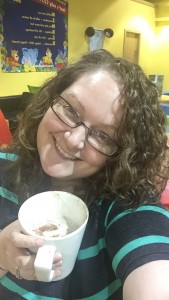 But for now? I'm going to enjoy the dregs of this mug, that he graciously left me until it's time to convince this child that a quick trip to Asda is more fun than those swinging punch bags – when all this Krav mama *really* wants to do, is go throw some combos! 😉