"Can you back the hell up outta my space please?"
That.
That, right there?
Is my lasting impression of Sin City.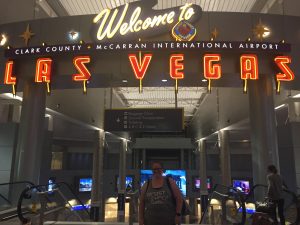 I think my personal experience was a little skewed.  Firstly, during the day, I was by myself, my travelling buddy was at the hackers' conference and I was wandering the streets of sin all by myself.  I think that makes a big difference – people see single women wandering aimlessly around, and it's like dangling a zebra to a freakin' lion.  Complete with overwhelmed, 'Holy crap am I really witnessing all of this?' doe-eyes, my first day really was spent wandering aimlessly up and down (and back up, and back down) the strip.  I was taking everything in (mostly heat stroke and golf-ball sized blisters over both feet) and everyone took this as an open invitation to get up in my business – It wasn't.
Secondly, I've obviously had my wicked-cool ninja training from Houston.  My 'be aware of your surroundings and pay attention to everyone and everything' training.  From the second I woke up and stepped out of the hotel on to the strip, I was mentally exhausted.  I felt uncomfortable, constantly on edge, needing to stay focused and keep my wits about me, I had one hand free at all times and my phone wasn't ever tucked too far away in case I needed to call for help.  I get that this sounds an extreme over reaction or an exaggeration, but it really did put me on edge and get my back up.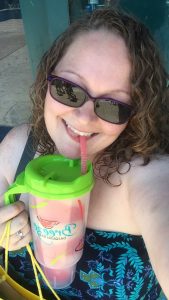 Here's the first of my travel tips for Vegas – hydration is key.  Especially in the height of summer.  People tell you this all the time and you're like, 'Yeah, yeah, I got it.  No biggie.' But it IS a biggie – if you're drinking enough water to sink the Titanic and you're not peeing? Drink more.  Carry a water bottle with you at all times.  If you get one of those novelty margarita glasses and you empty it? Before you refill it, down a round of H2O.  I landed myself with some (albeit mild) sunstroke, and it knocked me for six.  I thought I was drinking enough water, I wasn't drinking all that much alcohol, and I didn't feel too badly in the moment until it caught up with me.  Then I felt rough as hell.
Sunscreen – use it.  In ABUNDANCE. Usually I'm that idiotic pasty white Irish girl who doesn't apply enough sun cream and winds up with second degree sunburn – and everything that goes with it, the peeling, the itching, tea baths, old wives' remedies, aloe up the wazoo, and any amount of whining and moaning about my negligent-inflicted wounds.  But this time? I was ON POINT.  The Nevada summer sun overhead is intense, probably the most intense sun I've ever felt – and I lived in Texas for seven years.  But Vegas is hotter than Satan's front porch, and it's a dry, overwhelming, OMG I CAN'T BREATHE, kinda heat.  I could almost feel my skin cooking when I wasn't in the shade, so I was on top of my sunscreen applications, I was applying in the middle of the street every half hour to an hour while I was outside.  Don't be caught on this one, it's painful and it's dangerous.  Especially if you're drinking, dehydrated and your mind isn't at 100% – set an alarm on your phone if you have to.  Remind yourself.  Protect yourself.
Now those important things are out of the way, let's talk about the fun things.  What to do, where to go, what to see and what to eat.
I gave a friend of mine completely free-reign over which shows I should go see.  They were comp tickets, she knows me well enough to know what I'd like, what I wouldn't like and if it was left up to me I'd never have been able to narrow the BAZILLIONS of shows down to just the three nights I was there.
X-Burlesque
I guess most girls tend towards getting tickets to the Thunder Down Under, or some testosterone-filled male strip show.  But, having a friend as a burlesque dancer, having seen her troupe a couple times I was excited by this one.  I love burlesque.  That said, I was somewhat disappointed by this one.  I felt like a sardine in a tin can, kinda smushed up in behind the line of tables in front – so much so that my friend was able to manage some master level photobombing of the girls in front of us.  The venue is small, sure, but there was no real need to feel like my knees were wrapped around my neck.  Secondly, it was cold, freezing cold.  I get that the girls are constantly moving and they are hot under the lights, but I shivered the entire time – maybe that's why the feeling of sardines in a can, so you can huddle together for warmth? I'm not sure.
So, from my previous experiences, I'd have said that the art of burlesque is about the seduction, the tease, the big-reveal.  It's not necessarily always slow, but its sensual, tells a story, makes you use your imagination for a lot of it…it's not just getting your clothes off, or from zero to bare boobs in 0.01 seconds.  This was more a naked dance show, and some tracks were just a little on the side of weird and totes awkward moreso than anything.  I mean, it was entertaining, and of course the dudes like it, naked girls getting their kit off multiple times to different genres of music, but I can't in good conscience dub it 'pure burlesque'.  I think I preferred the entertainment of watching the reactions of the men in the crowd, to the display of the dancers on stage.
Burlesque University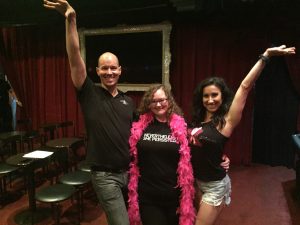 My friend thought she'd push me out of my comfort zone and pick me up a ticket to a burlesque class.  I was equal parts terrified and intrigued.  I'd jumped out of my comfort zone when I stepped in to Krav, so thought 'What the heck?' and walked in to the Burlesque studio with an open mind and a thumping heart.
Let me first say, that the majority of my problems with this class, wasn't at all to do with the organisers, other than the fact that they didn't interject much, they were WAY too polite, the other participants of the class spoke up before the 'teachers' did.  We had a boy in our class, a straight, heterosexual boy, with a full beard, learning to apply make-up and to do burlesque dancing – which is fine, but go with it.  He spent over twenty minutes asking questions about the waiver, legal questions, please explain this, what does this mean, well I'm not signing this type deal.  At one point the dancer turned and said, 'look, I'm just a burlesque dancer, not a lawyer, we can't go ahead with this unless you sign it', so he amended it and finally signed it.  Then the make-up portion of the class started and he kept asking questions, what is blush? What is lipstick? What does this do? Where are my cheek bones? (Not even kidding here) Seemingly all deadly serious too – DUDE.  Give it up and GO WITH IT.  By the time we got to the dancing part, there wasn't much time left for the dancing – the dancer even told me that if I wasn't leaving a couple days later, she'd give me free tickets for a show the following week, because this guy was such a colossal disruption to the class.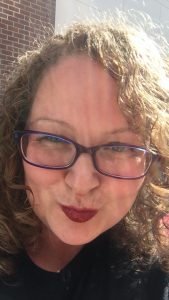 Dancing wise, I wasn't particularly impressed with the content, but, again, we didn't have enough time cause of Mr-Questions.  So I think I'd need to do a do-over before I could give a fair and balanced review of this class.  The choreographer and the dancer were both lovely though!
Cirque du Soliel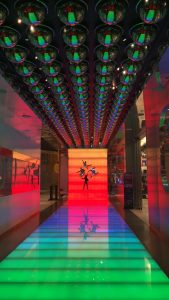 I admit, I was a disbeliever.
I didn't buy in to the hype, I didn't buy in to the cost, I didn't buy in to the experience, I just didn't buy it.  And then I got handed tickets to the LOVE, Cirque du Soleil – the BEATLES Cirque du Soleil.
For me, the Beatles are almost a religious experience.  On my first trip to the US in 1999 to visit my big brother in Atlanta, Georgia, I was exposed to a campfire version of 'Let it Be' – I was besotted.  I hadn't heard the Beatles before, and, horrified, my brother bought me the 'Hard Day's Night' album as a Christmas gift later that year.  I listened, I repeated, I obsessed, I loved.  I was officially a Beatles fan.  Over the years, I listened to more of their back catalogue and, had a random guy stood on stage with a plastic bucket and sang Beatles songs – I'd probably have given him a shot.
This? This was SO. MUCH. MORE. Than that.
I'm not going to ruin it for you, but it was interactive, it was 360, it was audio, it was visual and it was utterly incredible – I got choked up a time or two, and – despite her objections to the same, I'm sure I saw my girl Courtney get a lil choked up too.  If the Beatles aren't your jam – find something that is, and go see it.  I do want to see the Mystere show now that I've popped my Cirque cherry.  Though, that would require a return trip to Vegas and I'm not sure it's my kinda thang at all.
Tenors of Rock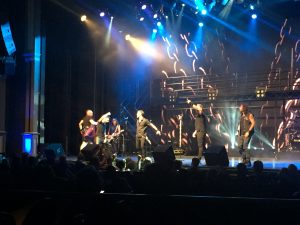 Lastly, (but by no means leastly), I got tickets to see the Tenors of Rock – the 'in house' act at our hotel, Harrahs.  Being a choral singer, I was curious – just, how *does* one put on a Vegas level show, singing contemporary rock songs, with classical Tenor voices.
I'm not quite sure what I expected, but I got goosebumps, I cried, I sang, we danced – and Courtney, who didn't have high expectations to begin with, admitted to being blown away too.  These guys were great!
Another up-side was that after the show, the guys came out for a meet and greet, picture and autograph session – being largely from England (and the lone Aussie) it was nice to have a quick chat and get a few snaps and signatures before we headed on our way.  Don't dismiss the idea of going to the 'lower' level shows, I really did enjoy this one a lot, even though it's not something I would have maybe chosen on paper.
Let me take a second here to mention the hotel.  It was a decent enough hotel and all – on the flight to Vegas, a lady was very snooty to me about the hotel I was staying in (Courtney's work picked it) and I couldn't figure out why.  It was perfectly nice – ok, it is one of the 'older' hotels on the strip and needs a bit of a facelift, and, if you compare it to the other, bigger, brighter hotels on the strip, you'll be disappointed.  But it was nice.  Aside from restaurants on the ground floor, they had an in-house Starbucks and a little bar-type area, that had a GREAT in-house act.  Dave the Sax Man and his brother played there the few days that I was staying there – I loved them so much so that I set an alarm on my phone to call in for a drink and listen the next day too.   Gorgeous soul singers and great sax playing had strangers (including me) dancing together on the dancefloor.  It was a really nice way to pass a couple hours and take refuge from the blazing sun.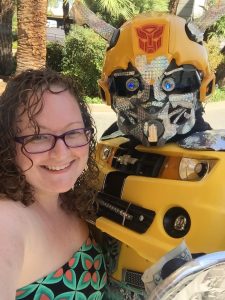 Between the pan-handlers, the pick-pockets, the people trying to get in your space about going to different clubs and venues in the evenings, those peddling wares from shirts and hats, to margaritas and henna tattoos (that they claim will last for a month, but DON'T!) and the dudes and dudettes dressed in character garb wanting a few bucks for selfies – the concept of personal space just DOESN'T exist in Vegas.  Everything is very much in your space.  If you want some 'me time', it's probably not the right place to go – especially as most people are drinking, so there's stumbling and bumping elbows, there's also THRONGS of people – even in the skin-frying-height-of-summer.
That said? There were some pretty cool things we did, places we went and things we saw – things I enjoyed (other than the amazing shows of course!)
Food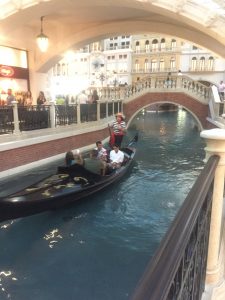 First real night in town, we had dinner in a cute little Mexican called Canonita – deep in the belly of the Venetian hotel.  You should nab a reservation – especially if you want a river-side seat to watch the gondolas sail past you (we did!)  The food was delicious, we had some thick cheesy starter and I got some yummy fajitas, but it was more about the atmosphere and just watching the world sail by to be honest.  It was a lovely place to eat dinner, and I'd happily go back there again – even though it takes FOREVER to get to it from the street – plan an extra 20-minute walk or so in to your 'walk to the restaurant' journey – cause you don't wanna end up arriving a big ole sweaty mess, to such a lovely place!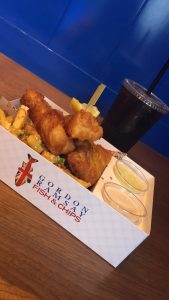 After picking up tickets to my Burlesque dance class, I went in to Gordon Ramsay's Fish and Chips, which was RIGHT next door to the Flamingo.  I had high hopes.  I wanted British sausages, I wanted British chips – not American sausages and American 'fries'.  Being disappointed on the sausage (not British sausages) and being told they were 'fries', I was disappointed.  But I loaded my fries with cheese and bacon and got the fish – aside from the fact that it was all swimming in grease, it was pretty darn good.  The fish, in particular was light and flaky and delish!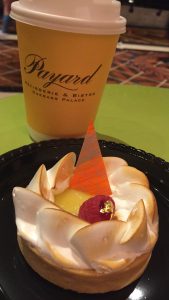 While waiting for our number to be called for the dinner buffet, Courtney and I went to the Payard Patisserie and Bistro in Caesars Palace.  I bagged a delicious hot chocolate and we split a lemon tart, it was really tasty – though a little on the expensive side, a tasty treat for sure.
Most people typically hit up the all you can eat buffets in Vegas – and we were no exception to that stereotype.  We tried three buffets while we were there, Cravings buffet (Mirage Hotel), Bacchanal Buffet (Caesars Palace hotel) and Flavors Buffet (Harrahs hotel) and of the three, Cravings was my favourite – the bottomless wine and beer helped for SURE, but I also preferred the food selections and quality in the Mirage.  I know, I know, Caesar's Palace is THE BOMB of buffets – right? Hell, we had to wait over an hour for our number to be called.  And, sure enough, if I was in to seafood, I bet that this buffet would be my favourite, but I wasn't impressed.  It was grossly overpriced compared to the other buffets, it didn't include wine or beer, and while I loved the lamb and potatoes, I wasn't thrilled at the stale bread and the clumps of fat posing as beef in the beef dishes.  Flavours rotisserie pork and rosemary potatoes were good, but the crème brulee was more like crime brulee, plus the service was grumpy and I didn't like how sweet the pasta sauce was.  Cravings, on the other hand, I liked.  The staff were friendly and made solid recommendations of food, the wine was free – did I mention that the wine was free? And bottomless 😉 and we liked the chef station, Courtney asked the chef to throw together a pasta dish (his choice across the board) and it was delicious! Worth it.
I didn't drink much alcohol while I was there, but the margarita I got from La Salsa (on the strip close to M&M world) was delicious!
To do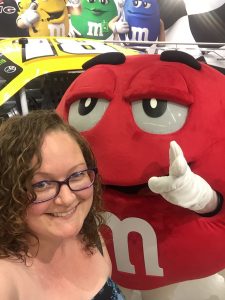 So.  The M&M store may be one of, if not my *favourite* store in ALL THE WORLD.  There's, like, FOUR FLOORS of M&M stuff.  From a WALL of M&M's – in a variety of flavours and colours, to everything from t-shirts and pjs, to cups, glasses and aprons.
Of COURSE there's a mark-up on, well, EVERYTHING.  I've NEVER spent so much money on a single bag of candy in my entire life, but you get totally caught up in the moment, and in the desire to test the fact that M&M's are resistant to the Vegas heat (the crunchy shell prevents them from getting all melty and smushed – it's pure genius.)  That said? My pj bottoms got a hole in them, before they even hit the wash for the first time – can you believe that? The most expensive pair of pjs I own and they got a hole.  UGH.  I spent a lot of time in here, I explored each floor, looked at ALL THE THINGS and came away with a bit of a haul of goodies.  It's a great place to stop in and have a poke-around.  Plus? Who doesn't want to get their picture taken with a giant M&M?
The Coke store didn't really impress me much at all, but it may be worth poking your head in for a bit of a look-see.  They had a couple of cool things to see – plus, y'know, aircon.
The day we left, I had a late flight – Courtney wanted to head to the airport and hang out, however, upon arrival to the airport, we discovered we were in different terminals and we went our separate ways.  Being WAY too early for even bag-drop, I decided to pay an EXTORTIONATE amount of money for a taxi from the airport to Fremont Street (and back).  It was a quick trip, cause of traffic and the time of day and it was one of my fave parts of the trip.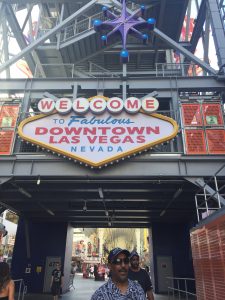 This is what's known as 'old Vegas', it used to be the old strip – and I felt MUCH more comfy and at home here, than on the current strip.  It was, I dunno, something.  More relaxed? A little more at home.  If you need souvenirs – go here.  Much better selection, and certainly a better price than on the strip.  I got a glimpse of somewhere I'd have LOVED to visit while I was there, the Mob museum, totally my cup of tea and very accessible from Fremont street.  If I ever go back to Vegas, I'd go to the museum, and probably spend my time in town, on Fremont street for sure.
I didn't gamble a single penny while I was there, I wasn't even tempted, I think if I hadn't gotten sunstroke and busted up my foot (I truly thought for a moment it was broken) I may have been a little more inclined, but I think I was quickly over the 'scene', the cat calling and whistling, the propositioning and the indignation at being turned down.  It was off-putting.
I dunno, I guess I was over Vegas, before I was under it.  I didn't have the same experiences that a lot of other people have in Vegas, I wasn't blinded by the seafood or the gambling or the glitz and glam.  I enjoyed it, but different aspects to those that typically love it.
Would I go back? Maybe.  To see and do specific places and things, with specific people.  But.  And this is a BIG but.  It wasn't, anywhere near close to my fave city in the US and I feel like for the same money you'd spend there, there's any number of *better* places you could go – so, I'd rather go to those places instead.