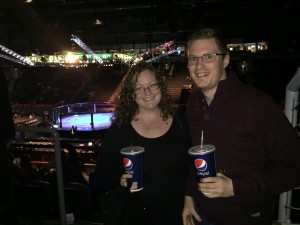 A friend presented me with UFC Fight Night tickets as a "congrats you passed your yellow belt in Krav, here go watch live fighting for a night" gift.
I was THRILLED when my "kid" brother was able to get the night off work to come with me. I've taken him to WWE as a kid, but I had no interest in wrestling and didn't know a damn thing back then, but, he enjoyed it, and I enjoyed watching him, watching something he loved.
Now we're both older, and we're both "in to" fighting, I was even more excited to share this experience with him. As adults, and having lived across the pond for so long, we haven't, and don't get much "just us" time, and this meant a lot to me.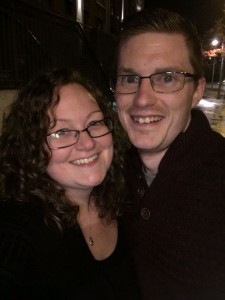 The night was going well, and took an unexpected upturn as Rowan came back from a trip to the loo and announced that he had just walked past Amanda Cooper as he was coming back to his seat. Just casually milling around the concourse at the Odyssey, still in her kit, after having won her FIRST EVER UFC fight. He said he contemplated stopping for a picture, but there was a crowd swarmed around her, so he thought better of it.
I didn't go to the toilet right away, and when I did, I had no expectation of seeing Amanda on the concourse, but as I was walking back to my door, I caught her in my peripheral. She was walking pretty quickly, flanked by two guys and I thought to myself, nah, I'll leave her be.
I walked in my door, got to the top of the stairs and was one foot ready to descend, when I had a whole slew of thoughts that prompted me to quickly turn on my heel and go back out to see if, just on the off chance, I could catch up with her for a picture.
You see, my gifted tickets were for some pretty epic seats, Row B, in fact, and Amanda had walked past us (we were sat on the exit route from the octagon) after her fight, just as a bunch of lads sat down behind us.
One of them had clearly never seen a fight before in his life. He asked his friends if this was the "sport for people having a midlife crisis", and while that comment was mildly funny to his friends, what got me and made me want to punch him (and all of his friends in their boy parts) was the fact he was a blatant objectifying, misogynistic douche bag – and they egged him on and found him hilarious.
I sat there, listening to him, my blood slowly boiling from a simmer, loudly objectify the octagon girl. Announcing any number of derogatory comments about her and how he wished he'd sat closer so he could see her, rather than the fighting – because of how "f'ing hot" she was.
And you know what? For the longest time? My entire goal in life was to BE that octagon girl. Skinny, pretty, big boobs – the epitome of everything society and the world tells you that you should BE as a woman.  Plus sized is a dirty word.  You need to BE beautiful.  Plus sized is NOT beautiful.
Even nowadays.
Sit pretty.
Look nice.
Be skinny.
Another guy behind me, boxed for Ireland. He boxed for eleven years and when I asked him if he coached or taught when he was done fighting, he replied no, he had three daughters. He was taken aback by my exclamation of "SO???" and said he'd never have LET them get in to boxing.
Girls don't fight.
Sit pretty.
Look nice.
He asked us if we came to UFC often and a third member of their group said "well, she (referring to me) is a pro, she knows a lot about this" and I'll never forget the pride in my brothers voice when he informed them, "she does this" (meaning fight) and the shock on their faces and in their voices when I said, "yeah, I fight", and told them about my new found love of Krav.
The boxer also said (when the heavyweight class came up), that being hit by a 245lb dude would be like being hit by a "fucking bus", and sniggered like 245 was so. Damn. Heavy.
And as my 245lb, fitter than I've ever been in my entire life, recent yellow belt/level 1 achiever in Krav Maga self, stood at the top of those stairs, ready to return to my seat, I was struck by a lightening bolt.
If the last six months of self discovery and badass training have taught me anything? It's that I'd rather be a strong, capable badass that men at the very least fear and question my capabilities, but at most, respect.
Than be a woman who's gawked at, drooled over and talked about like I'm a stupid, piece of meat whose whole existence is to "stand and look f*ckable, like a good girl".
I'll admit, the results of the recent US election are weighing on my mind of late. With the president elect being so outwardly degrading to women, and my mounting fear of contraception, abortion and other "women's things" becoming harder and harder for women to access, rather than easier. I find myself, almost glad, that I don't yet have a daughter, because my rage and pain for how backward and thinly veiled the worlds attitude towards women remains, isn't easily translated into comprehensive speech right now.
But bet your bollocks to a barn dance, if I ever have a daughter? I will help her smash through that bloody glass ceiling with our boxing gloves leading the way and shouting a big F U to the men like those I successfully tried not to groin kick tonight at the arena.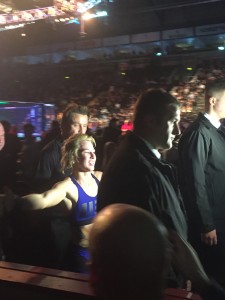 So yes, I walked my butt back out on to the concourse and thankfully, Amanda hadn't gotten too far. I walked up to her and she made a few guys who were ahead of me, wait a second, so I could take not one, but two pictures with her – my hand was shaking (so sue me, I got a little nervous walking up to her) and I hit the cancel button on snap chat instead of the save button and she graciously granted me a do-over.
In that moment I wanted to hug her, to tell her that she had inspired me, empowered me, and had given me pause to think about things for just a moment.
I wanted to tell her that she was the kind of woman I wanted my future daughters, nieces and Goddaughters to aspire to, pushing the boundaries of what society deems "acceptable" as a woman. Taking societies expectations of what a woman should be, and do and saying screw you, I want to do this instead, and doing it.
I wanted to tell her, that in that moment, she gave me the courage to do something I probably wouldn't have done otherwise, and snapped this picture.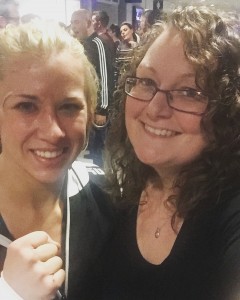 Which will forever remind me, that, I too, wish to, (and should) push those boundaries and challenge those expectations, vehemently, and for my kids (of either gender) to learn from example and do the same.
That girls can be both beautiful AND badass at the same time – the two aren't mutually exclusive like we've all been led to believe from an early age.
And mostly? That fighting like a girl? Is a pretty epic compliment after all.