We had originally intended on taking a cruise for our wedding anniversary, however, when we glanced at the Houston Aeros itinerary and realised that they had an 'away' double header over the weekend of our anniversary, and considering the fact that the rumour mill suggests the Aeros won't play in Houston next year, we figured it was the perfect time to take a road trip.
This was enhanced by the fact we've never been to Oklahoma, which meant another State Capitol to add to our collection!
Col sorted the hotel and booked the time off, I did my usual scouring of Trip Advisor to get our 'to do' list underway and pretty soon, we were off.  For the first time ever, I drove the whole trip, factoring two, hour-long meal stops, plus a stop for shopping (we took our leisurely time) it was a 10 hour drive for us.
But it wasn't impossible or horrific, my road rage was periodic, our stops were regular (mostly so my back didn't seize up) and Col's music selection wasn't wholly terrible.
What'd we do in OKC? Well, we slept.  For the first time in ages we turned off the volume on our phone and didn't sent an alarm. So, when we got out of bed, it was lunch time and we decided that the first port of call would be for our wedding anniversary lunch, at Cattlemen's Steakhouse.
It came up on the Trip Advisor radar, and, when I searched on You-tube, I found a Diners, Drive-ins and Dives episode that features this place.  So I knew what to order, before we even got there.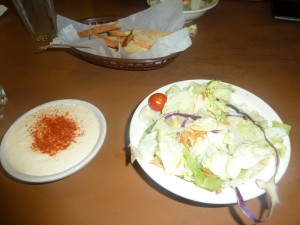 Firstly – every steak comes with a salad, not a small side salad, but a huge bowl of salad with some 'house dressing'.  Trust me – go for it.  The dressing is delicious, the bowl of salad is deep, though the croutons are super salty – so ask for water!
A point to note, the bread rolls come with the dinner, I'd rather they came ahead of time, cause, when this place is busy, you could be waiting a while.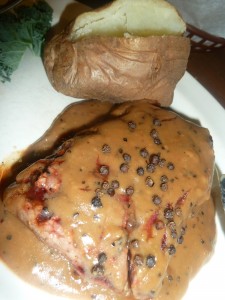 For me, I love a good peppered steak, at home, peppered sauce is a regular visitor at our dinner table.  Here, it's quite hard to find.  So when I saw this on DDD, I knew it was for me.  I just wish, the cut of steak was a little less tough and a little more tender, but it was tasty all the same.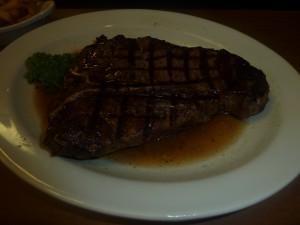 For Col, I instructed him (yup, I had his meal planned out as well – but thankfully it was what he would have picked anyway!) to have the Presidential, a $40 T-Bone steak, that is cheap at twice the price.  It was, hands down, the best steak I've ever tried.  If that sucker had been covered with my peppered sauce, it'd have been perfect! Col's steak was so big that he barely touched his fries, but it was a really good meal.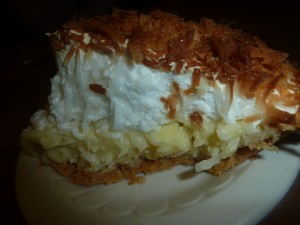 In spite of the fact that we were full to bursting, we had to make time for pie! We had to make time for the coconut cream pie – also mentioned on DDD, but we asked our server for a recommendation, which he provided.  Normally, I'm not good with American desserts, I normally find them overwhelmingly sweet, but this was delicious, light and refreshing.  It went in a heartbeat!
From there, we went to the State Capitol (number 7 for us), this place wasn't particularly user friendly at all, there wasn't any great staff on hand to talk to us about the building and there wasn't much we could poke around and look at.  But it was a gorgeous day and we got some nice pictures, plus it's free and open to the public – money saving is always important on vacation!
We had some time before the Aeros game, so we decided to visit the Oklahoma City national memorial (we opted out of the museum part, figuring it might be too depressing to do for our wedding anniversary).
The Outdoor Symbolic Memorial is a place of quiet reflection. Designed by Butzer Design Partnership, this Memorial honors the victims, survivors, rescuers, and all who were changed forever on April 19, 1995 in the Oklahoma city bombing. It encompasses the now-sacred soil where the Murrah Building once stood, as well as the surrounding area devastated during the attack.
The design was selected in an international competition including 624 entries submitted from every state and 23 countries. The winning design, created by the Butzer Design Partnership, was chosen by a committee comprised of family members, survivors, rescuers, civic leaders and design professionals.
Gates of Time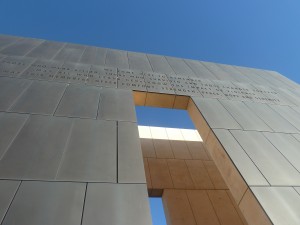 These monumental twin gates frame the moment of destruction – 9:02 a.m. – and mark the formal entrances to the Memorial. The East Gate represents 9:01 a.m. on April 19, and the innocence of the city before the attack. The West Gate represents 9:03 a.m., the moment we were changed forever, and the hope that came from the horror in the moments and days following the bombing.
Reflecting Pool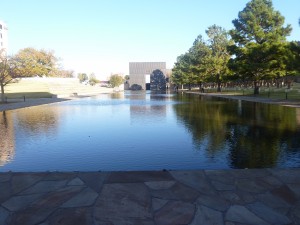 The pool occupies what was once N.W. Fifth Street. Here, a shallow depth of gently flowing water helps soothe wounds, with calming sounds providing a peaceful setting for quiet thoughts. The placid surface shows the reflection of someone changed forever by their visit to the Memorial.
Field of Empty Chairs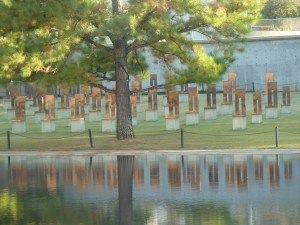 The 168 chairs represent the lives taken on April 19, 1995. They stand in nine rows to represent each floor of the building, and each chair bears the name of someone killed on that floor. Nineteen smaller chairs stand for the children. The field is located on the footprint of the Murrah Building.
Survivor Wall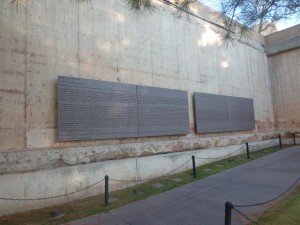 On the east end of the Memorial stand the only remaining walls from the Murrah Building. These walls remind us of those who survived the terrorist attack, many with serious injuries. Today, more than 600 names are inscribed on salvaged pieces of granite from the Murrah Building lobby.
The Survivor Tree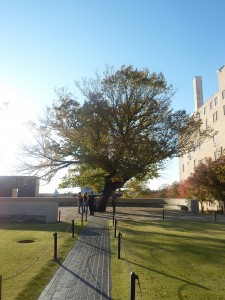 The Survivor Tree, an American Elm, bore witness to the violence of April 19, 1995, and withstood the full force of the attack. Years later, it continues to stand as a living symbol of resilience. The circular promontory surrounding the tree offers a place for gathering and viewing the Memorial.
Rescuers' Orchard
Like the people who rushed in to help, this army of nut- and flower-bearing trees surrounds and protects the Survivor Tree. An inscription encircling the Survivor Tree facing the orchard reads: To the courageous and caring who responded from near and far, we offer our eternal gratitude, as a thank you to the thousands of rescuers and volunteers who helped.
Children's Area
In the aftermath of the blast, children from around the country and the world sent in their own expressions of encouragement and love. That care is represented today by a wall of tiles painted by children and sent to Oklahoma City in 1995. In addition, buckets of chalk and chalkboards built into the ground of the Children's Area give children a place where they can continue to share their feelings — an important component of the healing process.
The Fence
The first Fence was installed to protect the site of the Murrah Building. Almost immediately, people began to leave tokens of love and hope on the Fence. Those items now total more than 60,000 and are collected and preserved in our archives. Today, more than 200 feet of the original Fence gives people the opportunity to leave tokens of remembrance and hope.
It was a very moving and calming place, I could have spent days there, just sitting quietly.
At the rink, the game was great, though it was freezing (yes, I'm aware it is an ice rink) and the people were super friendly, some even thanked us for making the trip.
On Saturday, again, we had a lie-in, so our first meal of the day was, yet again, lunch.  I'd met a girl at my friend Frances' baby shower, a few months ago.  She told me that her family owned a restaurant in OKC and I should check it out if I got the chance.  Ingrid's Kitchen.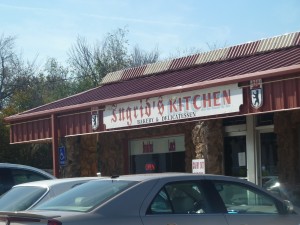 Again, I you-tubed the place, and discovered that the best time to visit this little German gem is between 12 and 2 on a Saturday.  It's at this time, when a local band comes in, they clear away part of the restaurant tables and chairs and the place turns in to a dance floor.  It was magical!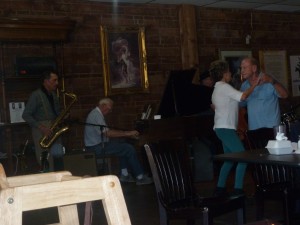 I was totally sucked in by the atmosphere, and, although the food that we ordered wasn't quite my cup of tea (Col had a brat sandwich and I had the wiener schnitzel), the dessert (pineapple and cream cheese pastry) and the atmosphere were well worth the visit (next time I'll try the tuna or the chicken!)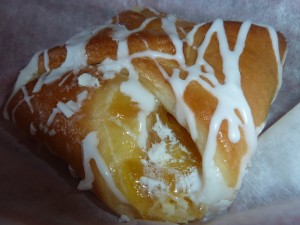 If I lived locally, I'd be here every weekend!
After lunch we went to the National Cowboy and Western Heritage museum for a nosy (complete with money off coupons that we picked up in a tourist brochure), coming from a Cowboy state, we were curious!
There were a couple of art galleries in there, lots to look at and many exhibitions.  You can easily spend half a day here (though, hope and pray someone hasn't brought their screaming toddler with them like they did during our visit!)
It definitely gives you a taste of the life of a cowboy! I particularly loved the rodeo display, but everyone knows I love the rodeo 🙂
When we'd finished at the Cowboy museum, we went to another local museum, the Oklahoma State Firefighters museum.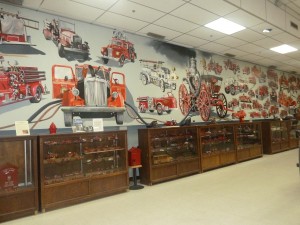 With an entry fee of only $5 per person (which I got reduced to $2.50 each because I checked in on Foursquare), we couldn't really pass it up.
It's a smaller museum than most, but that doesn't mean it was boring or didn't have a lot to look at, there was plenty there and we took just under an hour to get around and have some fun pictures taken on the fire truck outside.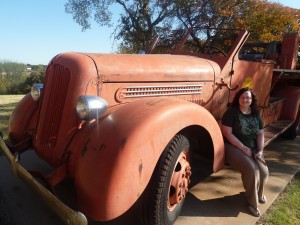 We needed to eat before the game, and another 'heavy hitter' in the reviews is a little place called RePUBlic, a gastropub in a strangely sparse area of town.  The menu looked good and, being from an area where British food is all the rage, we decided to give the state of Oklahoma a chance at producing some food from home.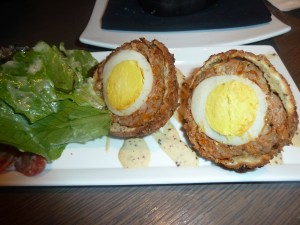 Col went with two small plates, the scotch eggs (which ended up tasting more like a scotch egg's Indian cousin) and the bratwurst mac and cheese, and I went with the fish and chips, which, even by British standards, was pretty damn good!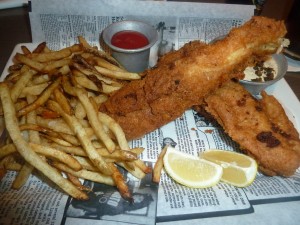 The second Aeros game was even better (we won!) and between the two games, we came away with two free t-shirts and a bobble head of each of the 2012 election candidates (as hockey players) which was pretty cool – though again, on night 2, in spite of layering up (I added a hoody under my jersey), I was still, as we call it at home, 'foundered'.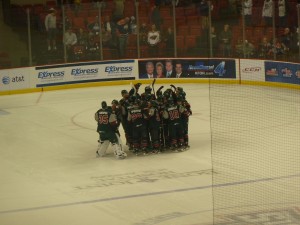 Our trip to Oklahoma city was probably just right – length-wise and we did all of the major things on our to-do 'hit list'.  There's nothing that I *really* wanted to do that we missed out on.  The only other thing to note, is that the hotel we stayed in was exceptional.  It was a Hyatt (at the OKC airport) and we Pricelined it for only $49/night.  It was an excellent hotel and I can't recommend it enough!
I think that about covers it for our little excursion into Oklahoma, hopefully now the song of the same title, will bugger off out of my synapses!
Next up on our "Tour D'etats", will hopefully be the rather 'unknown' (among our friends) and more obscure state of Arkansas, in late January 2013 for my hubby's birthday.  It's just over an 8 hour drive to Little Rock (maybe a little longer if we stop off in Shreveport Louisiana to pick up some dill pickled flavoured Lays!!), for not only our 8th State Capitol building, but also another Presidential library to add to our 'collection' – I've already started doing my 'things to do' research 😉