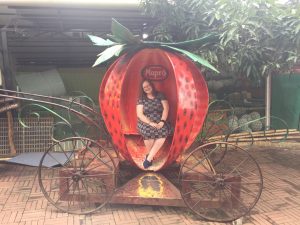 Alright – first things first – my driver (who will fully admit to this too), made a few boo-boos on this trip.  Firstly, he told us that it was only a 2-2.5hr drive, in actual fact, he should have added an hour to the total time.  It was a combination of his choice of road, coupled with the fact that the (extended) monsoon season here, has seemingly done real damage to the road surfaces – to the extent I was almost texting Col from the back seat and asking him to check the price of a flight to India for my lovely Chiro, Dr Jo.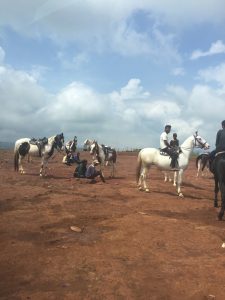 Secondly, I'm not hugely thrilled at the fact that we ended up atop a mountain, surrounded by aggressive guys demanding money, on horses, so close to the car that their tails swept along the paint.  But anywhoo.  My friends driver tells us that this isn't 'normal' practice at Table Land, maybe it was an 'off moment', but I know for sure, that I won't be going back here.
Mahabeleshwar is a small town a couple hours from Houston, it's pretty much famous for it's strawberries, and, while it wasn't strawberry season while I was in town – I was reliably informed it was only a matter of time before they're flooding the shelves here in Pune.  They were right, strawberries have landed in Pune – and they're tasty!  I'm excited, berries here are SO epically expensive, but, I digress.
Having done a little research before heading out the road, I had a short list of places that I wanted to visit.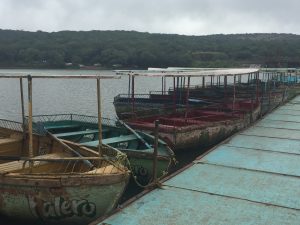 First on my list? Was a boat trip around Venna Lake.  Venna Lake is one of the major tourist attractions of Mahabaleshwar, it is surrounded by trees on all sides and you can hop in a boat and take yourself on a tour.  There's two options, you can either take yourself out on a paddle-boat tour, or you can have a guy come on the boat with you and row you around the lake.  You can take a full loop (30 minutes), or a half loop (15 minutes).   We took the 500r, dude doing the hard work, full loop around the lake (because I wanted to see the whole way around! LOL!) option.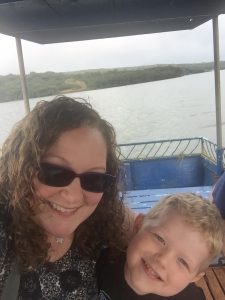 Let's just call a spade a spade, there's very little by way of safety.  The boats are a little rickety, ours even had the occasional little leak and if you're expecting life jackets – you're in the wrong country – this is India, it's all just a bit 'thrown together'.  That said? I never once felt unsafe or like I was doomed!  The Boatman told us that the lake is 100 feet deep and this is the natural water that is supplied to Mahabalshwar as well as Panchgani and the lake was foggy and serene.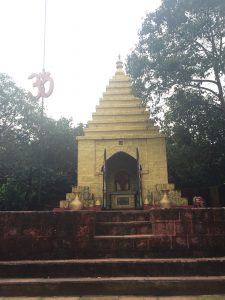 At the turning point, there's a temple, you can't disembark, or get out for a nosy, but you can get a decent enough picture as he's rowing by.  You also pass-by a park up on the banks as you 'sail by', we didn't pay it a visit, but it looked like a good park from the water.  Even Lewis enjoyed the trip around the lake, he was quiet, well behaved and our 'guide' even let him row the boat a little bit.  He was a happy boy.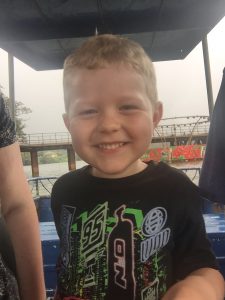 After we disembarked, we happened upon another item on my 'to do' list for Mahabeleshwar, strawberries and cream.  It's a sickeningly sweet cup of syrupy strawberries, ice cream and a whipped, cool-whip-esque type whipped cream imposter – Lewis loved it.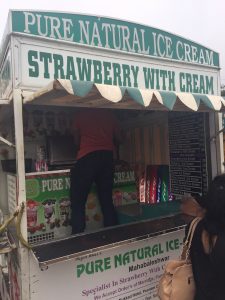 From here, we went to Mapro garden – another jewel in Mahabeleshwar.  Where we took a beautiful walk around the gardens, snapping any number of photo ops as we went – Lewis and I both loved the various props and contraptions to climb in to for snaps.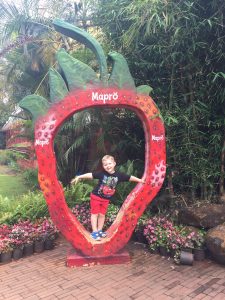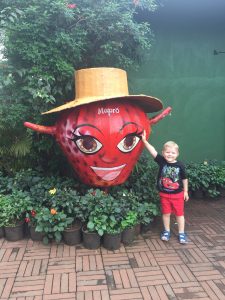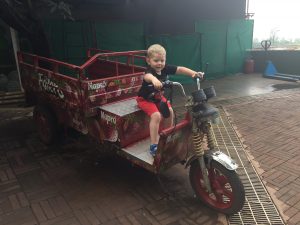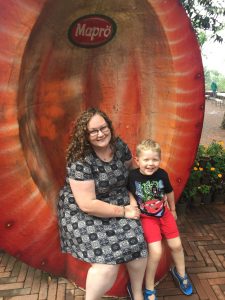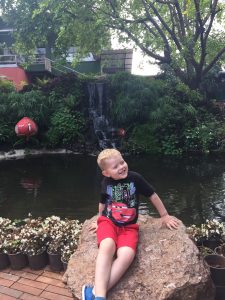 For lunch, we ate in the Mapro cafe, we ordered the (cheap) mocktails (they didn't have diet coke) which were INCREDIBLY syrupy sweet, (but Lewis loved them, what kid wouldn't? Basically we drove for hours and let our kid consume inordinate amounts of sugar) we ordered fries (which were delicious – though luke-warm at best), soup (none of us liked) and a pizza – which had way too much seasoning on it, but Col and I managed to eat it.  Reasonably priced, stupidly slow from some counters, and quick from others, it was a mix of hot and cold food by the time we all got to sit and eat.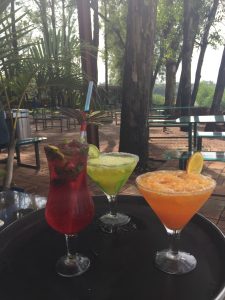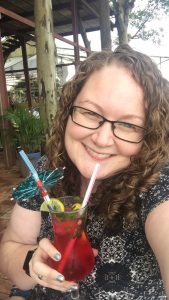 After lunch, we took a walk through the Mapro shop – full of mapro products and goodies, from chocolate covered nuts, to syrups and gummy sweets – all at a 10% discount AND with taste testing to boot!  We picked up some delicious chocolate covered nuts, sweets for trick or treating, a jar of strawberry jam (couldn't come and NOT get something strawberry-y) and a couple gifts for people for Christmas.
It was a lovely couple hours spent in a quiet, peaceful and beautiful place.  There was space for Lewis to run riot, you got to watch the farmers out back on the farm, tending to the premature strawberries, (and even the toilets were pretty clean!)  The views were incredible, the food was decent (and cheap) and the we absolutely lucked out on the weather, because it was cool, overcast and rained almost the entire way home.
We didn't get everything that we wanted to do, done, in Mahabeleshwar and I could definitely see myself going back there in the (near) future (BRING ON THE STRAWBERRIES!) despite the intimidating beginning to the trip, and the drive alone was pretty to look at, if you've not yet gone for a visit, I think there's enough to justify the trip – especially if you're inclined towards horse riding.