So, Saturday's have become our tourist days, we get up lazily, have breakfast, hop in the car – later than we tell the driver to expect us and off we go a-galavantin'.  Thus far, it's been pretty local, but he's encouraging us to go further afield over the coming weeks and months.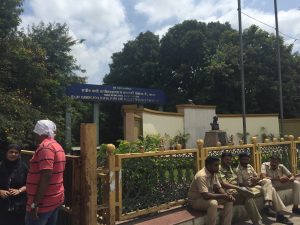 A couple weeks ago, we went to Pune Zoo – I had intended on doing a whole big post about the zoo itself.  A weekly 'sight-seeing' post of sorts.  However, this zoo wasn't quite like every other zoo in the world I've been to, so I'm writing a half-assed, deflated, 'meh' post about it.  Partly to remind me of the 'meh' when people come to town and go 'OMG HEY LETS GO TO THE ZOO' and partly in case anyone new to Pune thinks it's a Zoo, like we know Zoos to be.  It's not terrible, it just wasn't quite what we expected and left Lewis a little frustrated is all.
Alright – first things first, you want to go for a couple hour walk around a pretty, enclosed, mostly shaded area in Pune? Go here.  The paths are good for skate boards, scooters and bikes, it was largely cool enough for even us to go for a dander around, and it was a pretty enough walk.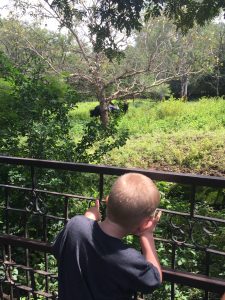 HOWEVER.  If you're expecting exotic zoo animals – you may want to re-think this place.  So.  They have elephants, but they were in a little tin hut down a hill that you can't get to, when we visited.  I dunno if our visit was bad timing, or this is where they lived, but even with maximum zoom on my iPhone, it was too far and too dark to get a picture of them.
They have two tigers, and while it's great for the tigers to have such a wide open enclosure to roam around in (bigger than any Western zoo we've been to) but it made it *incredibly* hard for us to see them – we heard one of them roar, but we didn't get o see either of them much at all.
They have monkeys, but, again, the enclosure is huge (yay for the animals!) and they have little caves they can run around in – we got lucky and they wanted to come out and play, but, again, this doesn't fall under the traditional 'zoo' definition, which is hard to explain to a three year old who wants to see elephants and tigers!
They have plenty of antelope, deer and buck to look at.  We liked looking at the crocs, the turtles and the snakes in the snake park section – there was definitely plenty around that section to look at and Lewis was fascinated.
I think my 'meh' came from the extra 30 minute walk around to get to the elephant enclosure with a tired kiddo desperate to see elephants and when we got there, they weren't out to play and we had to walk back, I was peeved.  If they just continued the path a little bit beyond the elephants you wouldn't need to turn back on yourself at all, so it was frustrating and resolved in Col carrying an exhausted Lewis back to the entrance.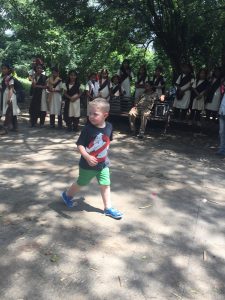 I felt like the biggest attraction at the Pune Zoo? Was us white folk.  We were stopped every few feet and asked for pictures of Lewis.  People constantly wanting to touch him, and be in his space – this one is taking a lot of adjusting.  For the first few weeks we have asked him if he wanted his picture taken, but, I have gotten slowly more firm at just outright saying no thank you.
It's different if people ask me for pictures – which they do, and I feel like a freakin' celebrity.  I mostly say yes, but only if I get to take one too.  Lewis (as you can see from the photo above) gets stared at.  A LOT.  This class of little kids were just fascinated by us every time our paths crossed.  It was draining.  My friend said that I'm probably giving them the one white-person picture they'll get in their lifetime, and it doesn't really do any harm.  But Lewis just gets overwhelmed and hides when people try and insert themselves in to his space, so we are getting actively more non-compliant, and in some cases maybe even verging on rude when people ask for his picture.
The weekend after the zoo, we went to the Shaniwar Wada Fort.  Now.  If you look at Trip Advisor – the list of things to do in Pune, and, India, both typically revolve around temples, dams and forts.  Shaniwar Wada was our first fort to visit, it's in the centre of Pune itself – this was my first trip in to the actual city of Pune, so it was novel.
Shaniwar Wada was built in 1732, it was the seat of the Peshwas of the Maratha Empire until 1818, when the Peshwas lost control to the British East India Company after the Third Anglo-Maratha War.  Following the rise of the Maratha Empire, the palace became the center of Indian politics in the 18th century.
"For almost 70 years, this fort remained home to the ruling Peshwas until the Maratha Army was defeated by John Malcolm of the British East India Company. In June 1818, then king Bajirao II, abdicated his throne to John Malcolm and went into political exile at Bithoor, near Kanpur in present-day Uttar Pradesh, India. After the British took over the region, fort became of residence of British officers for a decade until 1828 when a major fire broke within the fort. What caused this fire is still unknown but the entire fort was destroyed in it. The fire burnt for seven long days and after it was extinguished, only the huge walls and gates remained, everything else was destroyed. The fort was abandoned after the fire and no one has lived here ever since."
Shaniwar Wada translates to "Saturday Building" since it was founded on that day. Around 1,000 people once lived in the fortress (though our driver told us 15,000 – slight exaggeration!!) Today, the site hosts important public speeches and events.
"I believe the most important thing for kings when they built their forts in ancient times was that the fort should remain standing for centuries, as a sign of their power and rule over the region. They designed the walls to withstand any attack and keep the royal family and people of the kingdom safe…  Now after all the kings and queens are long gone, what remains is pretty much these strong and silent walls of several forts all over our country. There is no kings rule left anymore but these forts still remind people of the king who built them." 
As I mentioned above, the common theme among all of our sight-seeing adventures, thus far (and probably forevermore) has been the white-girl effect.  The people are curious, but friendly and respectful – for the most part.  I have found the occasional man snapping pics of Lewis and I without permission – which, I guess, is only to be expected as I drive around the streets taking pictures of the people and the locale here, it's just a little more uncomfortable when they're in our personal space doing it.
Typically, it's parents throwing their kids at us for snaps that they really aren't convinced they want in the first place – but there's always the one smiley kid who takes to me and wants to come walking along with me! LOL!
We're knocking tourist places off our list brave and quickly here in Pune, we've also added Aga Kahn palace and Mahabeleshwar to our 'done' list over the last couple weeknds, and I'm trying to decide where we're going to go this weekend, maybe some caves, or another fort!