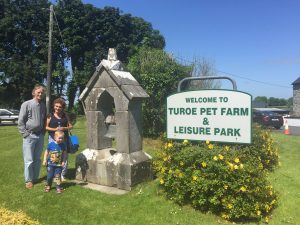 Right, so, I'm in Clifden, Co. Galway for my Uncle Robbie's wake and funeral not too long ago, and I'm sat in the hotel foyer, waiting for my parents to get changed out of the funeral garb and come down for dinner.  Lewis is with me, doing his usual 'running round like a hurricane' kinda thing.  To be fair, he'd been pretty great for the travel, wake and funeral and was just crying out to burn off some energy – so where better place to do it than the hotel lobby?!
All of a sudden, he appears next to me, with a flyer from the stand of tourist leaflets sat in the lobby.  'Mama, this looks fun', he says to me sincerely.  Taking the leaflet from him, I expected some fuddy duddy tourist place, or a local beach or what not.  In actual fact? He'd picked a leaflet for Turoe Pet Farm – which had a ginormous bouncy castle on the front of it – and, true as his word? It looked like a lot of fun.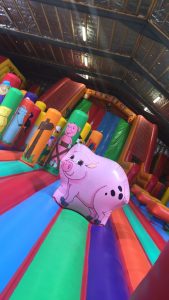 "Can we go mama?" He asked eagerly.
"Let mama check that it's open first and that it's on our way home," I replied.
As it turns out, from November to April they only open on weekends, from May to November they're open all week – AND they were only a few short Kms out of our way on our journey back up North.  The weather was due to suck, so our original Lettergesh beach plan had been shelved, and I decided that since Lewis had been AMAZING on the six hour car ride, and at both the wake and the funeral that we'd take him and give him some time to blow off a little steam.
It was very easy to find off the motorway (ok, so my GPS found it, but we didn't get lost), two adults and two kids cost around thirty Euro – and, considering that granted you access to all areas in the place, bags of animal feed, and you could stay til closing? That was excellent value for money.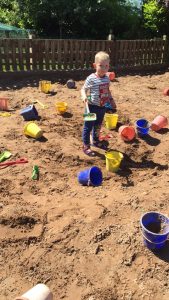 The place starts with a little ice cream shop, right next to a wee park, with a rather large sand box – it was pretty tough to convince Lewis that there was anything better to go play with, or see, than the sand box – the kid LOVES sand.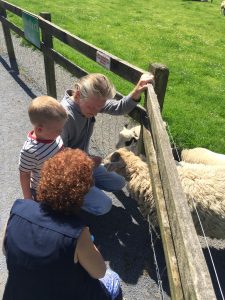 This leads you to a one-mile loop that you can walk around and feed the animals.  From cows and calves, to goats and donkeys – they're all hungry and incredibly friendly when they see those white bags of feed.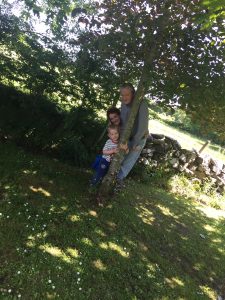 At the end of the loop, there's another park – a little bigger, and more modern.  We had a quick swing, before we headed over to check out the indoor side of things. The jungle gym section was totally packed, so Lewis didn't go off exploring.  We ordered food at the restaurant/café – and, in spite of there being, like, ten kids parties there at that moment, the food was quick, hot and delicious – it, again, cost us maybe thirty Euro to feed the four of us including drinks and it was tasty.
Lewis' favourite part of the whole day, was the indoor bouncy city.  He LOVED it.  The pictures don't quite do it justice – it was ginormous! After his first trip down the sheer-drop slide, he didn't want to come out.  He just kept going up those steps and sliding down the slide.
When it was time to go home, I had to go ask one of the women working there to go nab him for me.  The facility was excellent.  Spacious, plenty to do, reasonably priced, plenty of toilets and fascilities, on site restaurant with lots of seating and a total of three hours from us here in Larne (and two hours from my parents in Newry) – and it was worth the trip, for sure!
If you're looking for something to do this summer – that covers both Summer and potential downpour, Baltic, winter weather? Half-term getaway?
Check this place out!
It says 'Galway', but it's the nearside, about 110 miles from Newry for those of you in the hometown!